Now on 4K, Blu-Ray, DVD, & Digital – TOP GUN: MAVERICK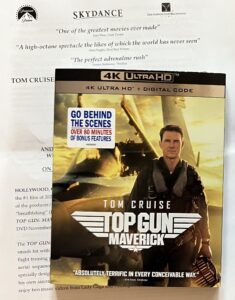 I'm not kidding when I say that Top Gun: Maverick is still one of my favorite movies of the year. It's one of those cinematic experiences that is still engrained in me. Director Joseph Kosinski and star Tom Cruise pulled out all the stops in making their sequel one for the ages. A high-flying spectacle void of blatant CGI and cheesy effects, as they relied on practical effects and stunt work to make the audience feel like they were right in cockpit with Maverick, Rooster, Hangman, and the rest of the characters. This was a reboot/remake that stood on its own without using too much nostalgia on the '80s classic to carry the new one along.
Top Gun: Maverick's themes of family and legacy both on-screen and off gave it an extra emotional tug at the heartstrings that left me a little misty as the end credits rolled with Lady Gag's perfect new anthem "Hold My Hand"
Special Features on the 4K, Blu-Ray, DVD, and Digital copies may vary, but here is a list of what to expect from the press release:
Cleared For Take Off – Witness the most intense film training program as the cast prepare themselves for filming while pulling multiple G's in a fighter plane.
Breaking New Ground – Filming Top Gun: Maverick – Prepare to take flight as you go behind-the-scenes with the case and crew of Top Gun: Maverick on a journey top capture the most spectacular aerial sequences ever
A Love Letter to Aviation – Tom Cruise shares his passion for aviation as he pilots his own aircraft a vintage World War II P-51 Mustang
Forging the Darkstar – Pushing the limits beyond Mach-10, the future of aviation is unveiled through an impressive experimental aircraft specially designed for the movie
Masterclass with Tom Cruise – Cannes Film Festival – Tom Cruise discusses his incredible career at the the flagship event of the 75th Cannes Film Festival
"Hold My Hand" Lady Gaga Music Video
"I Ain't Worried" OneRepublic Music Video
Mission: Impossible – Dead Reckoning Part One Teaser Trailer
Here's my review of the movie
Check out my incredibly fun interviews with this cast!