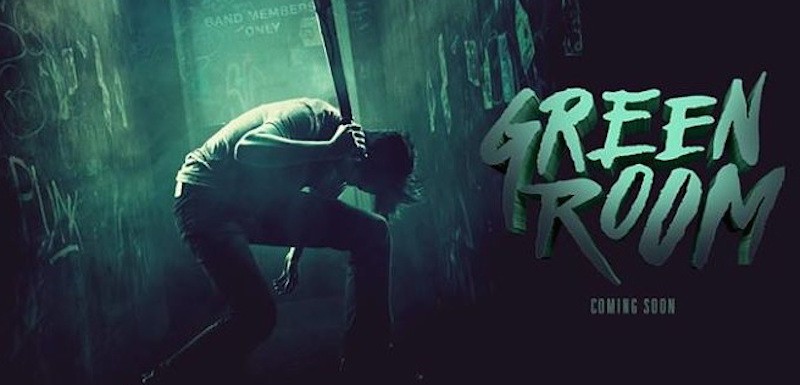 GREEN ROOM
Writer/Director: Jeremy Saulnier
Starring: Anton Yelchin, Imogen Poots, Alia Shawkat, Patrick Stewart, Macon Blair
I get the impression that Patrick Stewart doesn't take himself too seriously, which is something I really admire about him. He's a classically trained actor who has tackled everything from Shakespeare, Star Trek: The Next Generation, X-Men, and raunchy comedies in between. Check out his episode of Ricky Gervais' Extras if you need a good laugh. Now he's going rogue by appearing in the gruesome horror film, Green Room from director Jeremy Saulnier (Blue Ruin). A group of young musicians called the Ain't Rights, led by Anton Yelchin (Star Trek reboot) and Alia Shawkat (Arrested Development) are hitting the road on tour. They are a broke punk band going from one dingy club to the next. They're so broke they have to siphon gas along the way. They also hate social media if that gives you any indication of how hardcore they think they are. Their music consists of screaming into the mic, which is not my cup of tea.
Their tour goes from bad to worse at their most recent stop. As they are leaving the club, Pat (Yelchin) witnesses a dead girl lying in the middle of the green room with a knife through her temple. The owners of the club are aware of the situation and it's very apparent they play a factor into what happened. Pat frantically tries to call 911 but gets caught leading to the group being held hostage. When the club's owner, Darcy Banker (Stewart), arrives on the scene, a larger web of craziness starts to unfold.
This is Saulnier's third feature, but my first of his. Blue Ruin is currently on my Netflix streaming queue and will probably be watched very soon after catching Green Room. Once the Ain't Rights are locked in the green room, it's a claustrophobic room of tension as they are now stuck with the dead girl and one of Darcy Banker's henchmen. Technically, they have the strength in numbers at this point, but they have no idea what's waiting for them outside those four walls. It becomes a back and forth of who's in charge of the situation, and it's not pretty. As more of Banker's guys and pit bulls come into play, it gets even murkier as there is a whole system that comes into play in order to cover up the scene. Like he does with the musicians, Saulnier keeps the audience partially in the dark about what's been happening at the club. I'm still not sure if I fully know what previous drug trades and murders have already happened by the time this story unfolds. I do know there is a bunker of heroin involved that comes into play later on.
The confided spaces and overall scary situation doesn't bode well for the musicians who all start to unravel. Do you ever see a scary movie where the characters are frightened yet they still somehow know how to use a knife or gun to outwit the killer by the end? Saulnier keeps the characters as hopeless as possible. They find themselves completely out of their element fumbling around with guns, tripping along to way in the slim chance they will survive. Darcy, his men, and pit bulls do not make it easy for them to escape. I teetered back and forth on who I thought would come out victorious in the end. You know you have a good fright fest on your hands when the audience has vocal reactions during the movie. The number of queasy and shocking moments left us squealing and wincing at the carnage scene that unfolds. Think Saw, but a little more realistic. As much as I want to describe the blatant and graphic nature of the film, it's just best to experience it on your own so you can jump in your seat or watch it between your fingers. Saulnier is not afraid to shove it in your face as this isn't one for the squeamish.
At first glance Green Room seems like your average to poor horror flick that we've seen countless times before. Even the beginning bares a resembles to Texas Chainsaw Massacre with the young cast traveling by van only to be stuck in the middle of nowhere. Writer and director Jeremy Saulnier manages to keep it fresh and energetic the entire time and has a great cast to help him out. The casting of Patrick Stewart is genius as you don't really want to believe that he's the cruel and horrible villain, but he's completely menacing along the way. Imogen Poots (Knight of Cups) is another standout as a club patron who finds herself in the wrong place at the wrong time. The film is bloody fun with plenty of shocking and eye-popping moments along the way. Don't worry you may find yourself laughing at times too.
Is It Worth Your Trip to the Movies? Horror fans will have a frightful good time with this one.
RATING: 3.5 out of 5 TICKET STUBS