GUARDIANS OF THE GALAXY
Director: James Gunn
Starring: Chris Pratt, Zoe Saldana, Dave Bautista, Vin Diesel, Bradley Cooper, Lee Pace, Benecio Del Toro, Djimon Hounsou, Glenn Close, John C. Reilly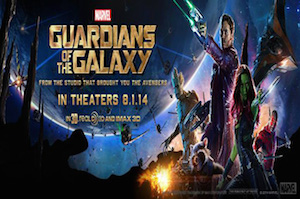 Move over Avengers, because Marvel has a whole new set of heroes that are worth checking out and worth our money at the box office. This is the third Marvel release this summer after The Amazing Spider-Man 2 and X-Men: Days of Future Past. Funnyman Chris Pratt suits up as Peter Quill, a.k.a Star-Lord, a pilot who was abducted into space as a kid on the same night his mother died. He now finds himself face to face with a mysterious orb and a bunch of hunters led by Korath (Hounsou). Korath is working for Ronan (Pace) who plans on using the orb to completely destroy the planet of Xandar. Peter is later imprisoned along with the beautiful and fierce warrior Gamora (Saldana), Drax the Destroyer (Bautista), the wise-cracking and gun-toting Rocket Raccoon (Cooper), and a tree-like humanoid named Groot (Diesel). All five of them are outcasts and unique in their own special way. In order to save the universe, they band together to protect that little ball of power from the hands of the evil Ronan.
Right from the moment we see the adult Peter Quill, you get the sense that this has a very different feel and tone from the rest of the movies in the Marvel franchise. Whether it's Marvel's The Avengers destroying New York City or X-Men: Days of Future Past using Richard Nixon as a character, many of those stories are set in a more realistic world. The title of this film tells us that we are dealing with a completely sci-fi/fantasy realm with aliens, species, and creatures of all shapes and sizes. Director James Gunn co-wrote the screenplay with Nicole Perlman, and it's evident that they were allowed to go to the extremes and bring us a fun, over-the-top ride. There's a playful attitude that comes across in the wacky fight scenes, the characters, and witty dialogue. It's great to see the comedic banter given to numerous characters in how they deal with each other. Drax the Destroyer takes everything at face value and doesn't understand the concept of metaphors while Peter is always joking around and throwing out references left and right. Rocket is the loudmouth partner next to the almost silent Groot. Due to this approach, Guardians of the Galaxy is probably the most family friendly we have seen from Marvel to date. It has a Star Wars-ish vibe but with comic book characters that parents may find more suitable for younger moviegoers. The violence is cartoonish and there aren't as many overarching life themes that would normally go over a young child's head.
Chris Pratt is on a roll right now both on the big screen in Her, Zero Dark Thirty, and The Lego Movie as well as playing the goofy Andy Dwyer on Parks & Recreation. Even though Parks & Recreation ends next season, Pratt will not have that post-TV slump as he is currently filming Jurassic World and I'm sure future Guardians movies. He has stated in interviews that he originally turned down this role thinking he was completely wrong for it. I, for one, am thankful he reconsidered as he seems like the perfect choice for Star-Lord. Now, I've never read the comics, so I have nothing to compare his performance to in terms of the original source material. Maybe he infused the role with some Pratt-isms that we know from him, but they still work here. He has that nice blend of being believable as an action star and infusing his comedic charm on top of that.
I would never have thought I would find Vin Diesel to be so funny. Maybe I haven't given those Fast and the Furious movies enough of a shot yet, but there's a side of him that comes out as Groot that I didn't see before. He only utters one line, "I am Groot", but the comedy comes in with how repetitive he gets to be with it. He partners well with Bradley Cooper who voices Rocket. They have that classic comedic duo routine but with a tough edge where one does all the talking and tries to be the wise-guy. If I didn't already know Cooper was the voice, I may not have recognized him right away.  I applaud him for really going somewhere different with his characterization. Then there's Lee Pace as Ronan who seems to be getting a lot of villain roles lately. I have no problems with this concept as he can always find the menacing side to any character of his. He'll return as Thranduil in The Hobbit: The Battle of Five Armies. Even though Glenn Close and Benecio Del Toro have smaller roles, they have great hair, make-up, and costumes to play around in.
I would not consider myself a comic book aficionado, but I do enjoy seeing the big screen adaptations. I had no idea what to expect with Guardians of the Galaxy. The trailer had a good sense of humor about it, but I didn't want it to be hokey. Don't worry, it isn't. I will say that it took me a bit to get adjusted into this universe as I didn't know the characters, source material, and how different it is than the other Marvels universes. Once I was in, it was a wild ride of fun. I laughed more here than I have in other Marvel franchises. This film continues to show the quality that this genre has on actors and moviegoers. It's great to see Oscar winners and nominees like Bradley, Glenn, Benecio, John, and Djimon wanting to be a part of these movies. To top of it, it has a killer soundtrack that plays into the movie and provides for some slick Chris Pratt dance moves.
Is It Worth Your Trip to the Movies? Marvel has a hot new series on their hands that will only get better with the next entries to come.
RATING: 4 out of 5 TICKET STUBS