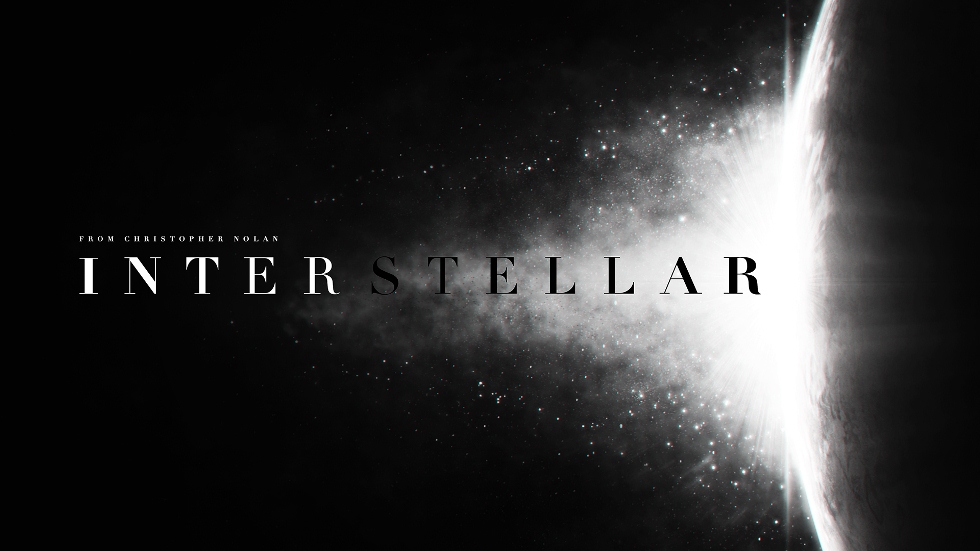 INTERSTELLAR
Director: Christopher Nolan
Starring: Matthew McConaughey, Anne Hathaway, Jessica Chastain, Michael Caine, Wes Bentley, Mackenzie Foy, John Lithgow, Timothée Chalamet, David Gyasi
Christopher Nolan is one of those directors whose films I go into with grand expectations. He's that kind of director that always pushes himself to new heights with each project he tackles. I have talked about my love of The Dark Knight Trilogy multiple times before. With Interstellar, he is pioneering his biggest and most ambitious project to date. Earth is starting to see it's final days. A steady blow of dirt makes the living conditions hardly livable and there is a shortage of food. Cooper (McConaughey) is a pilot, engineer, farmer, and a father to two young kids, Murphy (Foy) and Tom (Chalamet). Cooper and Murphy share a love of science, space, and discovery. It even gets both of them in trouble when Cooper finds out that her school is trying to change history by telling the students that the Apollo missions were a cover-up by Russian propaganda.
Murphy believes she is on to something when gravity or ghosts start leaving clues in her bedroom. Cooper believes they are coordinates to find something bigger and grander than they can imagine. They drive off and come upon a secret government facility where they are both captured and taken in for questioning. It is not long before Cooper learns it is a NASA center. He is then told by Professor Brand (Caine) to lead a shuttle to the depths of the universe to a wormhole near Saturn in hopes of finding the human race a new home. On board are fellow astronauts Amelia Brand (Hathaway), Doyle (Bentley), Romilly (Gyasi), and a robot named TARS. This is Cooper's calling in life, and he will risk the choice of never seeing his family in hopes of saving the universe. This choice leaves his daughter distraught with their last moments together filled with tears and anger.
The script by Jonathan Nolan (Christopher's brother) is filled with some pretty meaty concepts and theories. Theoretical physicist Kip Thorne was brought on as a consultant and advisor to keep the film's references to wormholes and other scientific details in check. It is a very intellectual script with various theories about space, science, life, survival, and love being thrown around so frequently that you will get your head all wound up tight if you try to focus on each one. Quite frankly, many of the specific scientific concepts went way over my head. I guess I should have paid more attention in science class when I was a kid.
If you go in with an open mind and let the imagery take over when McConaughey, Hathaway and crew set out into space, it is a visual feast for the eye that is truly a cinematic experience that must be taken in on a huge screen with an explosive sound system. A small television screen or laptop cannot convey the grandiose feeling that comes when you experience this film in the theaters. The theater rumbles so hard you feel it in your gut. Han Zimmer's score that is consistently playing throughout the film also enhances the celestial mood. The cinematography by Hoyte Van Hoytema is luscious and surreal. Nolan's frequent DP Wally Pfister was unavailable as he was off directing his feature film, the extremely disappointing and messy Transcendence. I wonder what this film would have looked like under his eye as he has shot many of Nolan's films in IMAX. Due to the sheer nature of making a film of this scale, there are not many movies out there that have dared taking on such a probing depth into the unknown. It's those great films that have come before that you draw back on at times and make some comparisons throughout. It is easy to spot Nolan being influenced by films like Kubrick's 2001: A Space Odyssey or Spielberg's Close Encounters of the Third Kind. Last year's masterpiece Gravity will also come to mind, but tackled getting lost in space in very a different way. Little known fact, Spielberg was once attached to direct the film in its early days.
This is the kind of film where you really should go in with little or no knowledge of what is to come next. I would advise against reading too many interviews, don't review the cast list or character breakdowns. There are plenty of spoilers abound if you start reading too much about the film. When you strip away all of the scientific jargon, the heart of the film rests in two father-daughter relationships. There are multiple heartbreaking scenes as we watch Murphy lose her father to space unaware if she will ever see him. That betrayal grows into her adult life when Jessica Chastain so effortlessly portrays that grief. The waterworks are flowing for McConaughey as well as he desperately tries to hold out hope that he will one day see his daughter and son again. The other relationship is between Michael Caine and Anne Hathaway who have previously worked with Nolan before. There's something so theatrical and emotional about hearing Caine quote Dylan Thomas' "Do Not Go Gentle Into that Good Night".
Interstellar will probably divide audiences. The film covers a lot of ground with a run time of two hours and forty-five minutes. I can see many people getting lost by focusing too hard on all of the science behind the film. Some people will try to debunk everything and look for plot holes. It can be a challenge to keep the storytelling going while focusing in on all of the technical elements of the movie especially when you start heading further and further into the oblivion known as space. The ending of the film will definitely have people in discussion. I have no problems with the ending, but there some edits and tightening that could have happened along the way. Nolan has pushed himself, his actors, and his audience to the extreme and the results are rewarding to say the least. I want to feel challenged and taken to a new place by a movie. If you allow yourself that release, Interstellar will do just that.

Is It Worth Your Trip to the Movies? You will no doubt by enraptured and in awe by the film. Make sure to see it in 70mm or on a massive IMAX screen.
RATING: 4.5 out of 5 TICKET STUBS