MAGIC MIKE XXL
Director: Gregory Jacobs
Starring: Channing Tatum, Matt Bomer, Joe Manganiello, Adam Rodtriguez, Kevin Nash, Jada Pinkett Smith, Amber Heard, Andie McDowell, Elizabeth Banks, Gabriel Iglesias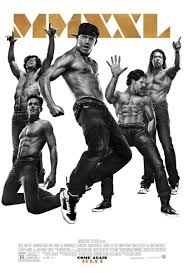 Apparently it's hard to write a good stripper movie with a strong plot. When Magic Mike hit theaters in 2012, it divided the audience. It received a strong applause from the critics for director Steven Soderbergh's filmmaking choices and its dark approach to the story. Fans were less than impressed by the story and wanted more dancing. They wanted to see Channing Tatum and crew get down and dirty. When Magic Mike XXL got greenlit, Tatum and his friend, co-producer, and writer Reid Carolin listened to the audiences' concerns. Mike (Tatum) has left behind his days of being a male entertainer to focus on his career making custom furniture. He gets a call from his old pals stating that their mentor Dallas has passed away and asks him to join them for the funeral. Apparently Matthew McConaughey's salary was too big after winning the Oscar to return as Dallas. Mike's reunion with the guys: Big Dick Richie (Manganiello), Tarzan (Nash), Ken (Bomer), and Tito (Rodriguez) brings back all of those good memories they had together. They are hitting the road for a stripper convention in Myrtle Beach, Florida and persuade Mike to join them one last time.
How do you turn down that offer? If you're "Magic" Mike, you can't. He joins the boys in their travels which involves them all living out of a FroYo food truck. They're off to a bumpy start early on due to some tension in the group. Mike has been the only one at successfully attempting another line of work. Ken's a bit resentful that he's tagged along but channels his inner earthy level 3 healer abilities to center himself in these times. Mike's tendencies to act like the leader of the group doesn't bode well either after suggesting they shake it up and try all new routines and choreography. WOAH, what a crazy concept. Their road trip reunites them with familiar faces from the past, including Rome (Pinkett Smith), an old ghost from Mike's stripper past whom they must now turn to for help.
As you can already tell, there isn't much of a juicy plot going on. It's your standard road trip type movie with friends who have a history together. The first film primarily focused on Mike and The Kid, and this one let's us in on the lives of the rest of the group. It definitely feels more like an ensemble film. We get a little bit of background on what's been going on in their lives and each feels like they have a bit more personality this time around. Screenwriter Reid Carolin does account for why all of those other characters aren't around in passing dialogue. Most of Carolin's script feels a bit choppy as he doesn't quite seem to know what he wants out of this story. Some new characters get introduced, none of which are all that interesting. It's a bare bones attempt to have a connective through line when the gentlemen aren't dancing. These "in between" scenes feel a bit flat and drawn out. There's not enough punch or even witty dialogue to make us care what's going on.
The paradox falls there, as a majority of the audience isn't going to Magic Mike XXL to see an intriguing plot. They want men stripping, and they want it now. When we get to those scenes, the film works really well. The audience just roared when we hear Ginuwine's "Pony" and Tatum starts getting his groove on again. When Big Dick Richie turns up the heat in a gas station to the Backstreet Boys, it is downright hilarious and sexy. There is fervent energy and excitement in any of these scenes. It's another strong moment when we first see Jada Pinkett Smith's character. She runs a house of male entertainment, which provides a cameo by Michael Strahan and introduces us to new strippers played by Donald Glover ("Community") and Stephen "tWitch" Boss ("So You Think You Can Dance"). This is one of Pinkett Smith's best roles recently. The cast seems to be having the time of their lives when they get to be sexy and turn on the audience. We hear great dance music and dollar bills are being flung around so freely as if money is no concern. The final climax at the convention is a huge scene akin to the 11:00 number of a big Broadway musical. Boy, does it get hot in the theater.
The film is missing a strong eye without Steven Soderbergh as its director. He passed the torch to Gregory Jacobs who has been Soderbergh's first assistant director in the past. Soderbergh didn't completely leave the project as he is still credited as one of the film's producers, the director of photography (under the name Peter Andrews), and editor (under his other alias Mary Ann Bernard). If I am to get picky for a bit, I had questioned if Soderbergh was the DP as it didn't have his typical style. If you've seen any of his films or even remember the first Magic Mike, he does a lot of wide shots where he just sets up the camera and let's all of the action happen in front of it without it following the action or forcing any sort of tension in its place. I guess that style may not have worked with the loose feel of the film, but it was noticeable for a Soderbergh fan.
For someone that actually enjoyed the first film, I missed the plot this time around. I get that people don't want to see a movie about morals and the dark world that stripping can have on a young impressionable kid, but something else could have happened in this movie. The dancing, music, and heat that emanates from Tatum, Bomer, Manganiello, Nash, and Rodriguez make up for it. Maybe if they may a third film, they can combine the elements of these first two by having a strong plot and sexy dancing. Maybe I'm asking too much.
Is It Worth Your Trip to the Movies? Channing Tatum and the boys are HOT HOT HOT.
RATING: 3 out of 5 TICKET STUBS