MR. HOLMES
Director: Bill Condon
Starring: Ian McKellen, Laura Linney, Milo Parker, Hiroyuki Sanada, Hattie Morahan, Patrick Kennedy, Frances de la Tour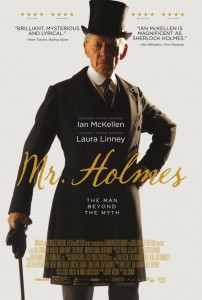 Gandalf. Magneto. Iago. King Lear. Sir Ian McKellen has been fortunate enough to play many iconic characters throughout his career. Now he tackles Sherlock Holmes, and you wonder why he's never played him before. Mr. Holmes presents him retired and living in a cottage in the English countryside. He spends his time as a beekeeper and is cared for by his housekeeper Mrs. Munro (Linney) and her son, Roger (Parker). At the age of 93, his memory is failing him and he has turned to a strange jelly out of Japan to help sharpen his skills. One day Roger finds a journal up in Sherlock's study and reads notes about an old case he had worked on. Initially Sherlock is frustrated at Roger for snooping in his stuff, but there's a bit of him that realizes the little boy is just as inquisitive as he is. Our favorite detective is quick to point out that his old pal John Watson never told their old stories correctly and got some of the details wrong. He didn't wear that traditional hat or smoke a pipe like he was often portrayed. He is bound and determined to set the record straight on what happened during his final case. With Roger's help, Sherlock looks back to that case from thirty years prior and the woman that changed his life.
We've seen many versions of Sir Arthur Conan Doyle's trusty sleuth over the years. There have been updated versions with the likes of Benedict Cumberbatch playing him for the BBC and Robert Downey, Jr. playing him for director Guy Ritchie. This version of his story is based on the book "A Slight Trick of the Mind" by Mitch Cullen with a screenplay by Jeffrey Hatcher. Hatcher (Stage Beauty, Casanova) is a Minneapolis based playwright and his plays are frequently produced all over town. I don't have the deepest knowledge of Sherlock Holmes, but I don't believe we have ever seen him presented at this age and time of his life. Cullen and Hatcher take this new spin on the character, but include mentions of Dr. Watson, Baker Street, and other Holmes characteristics to help this story feel cohesive to previous Sherlock incarnations.
Director Bill Condon has enlisted the help of some of his trusty friends and former collaborators with Ian McKellen (Gods and Monsters) and Laura Linney (Kinsey, "The Big C"). McKellen gives one of the best performances of the year that must be recognized during awards season. As the film weaves in and out of both timelines, he plays Sherlock in his sixties and nineties. Everything about McKellen feels so natural and perfectly executed as if he has been playing the role for years. I would also like to put in my vote for best make-up job for the aging process that went in to make McKellen fit in both decades. If you didn't know he was in his seventies, you would believe you were watching a ninety year old actor in the part. McKellen is aided by the sharp performance by young Milo Parker. Parker will no doubt have a fine future ahead of him if he stays in the business. In a much smaller role, Laura Linney is a pleasure as always to watch. Her accent is not perfect, but I got over it pretty quickly as you witness the weight she is able to bring to the role.
Mr. Holmes is a quiet, meditative type of movie. It's perfect for anyone sick of the loud, explosive summer blockbusters. I ran the gamut of emotions as I watched McKellen's captivating performance and thought about the life this character had led. It's a beautiful movie in the cinematography, character study, and performances. It's the kind of movie that is perfect for a simple Sunday afternoon. If you live in the Minneapolis area, go out to brunch at Edina Grille and then head over to the Landmark Edina 4 for the first matinee. You'll have all the feels after having a wonderful breakfast and taking in one of the best movies of the year.
Is It Worth Your Trip to the Movies? You don't need to be a Sherlock Holmes aficionado to enjoy this take on the character.
RATING: 4.5 out of 5 TICKET STUBS