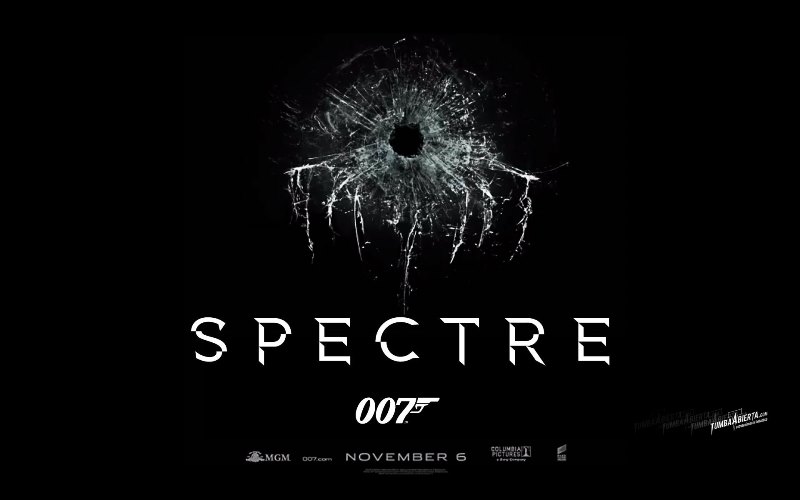 SPECTRE
Director: Sam Mendes
Starring: Daniel Craig, Christoph Waltz, Léa Seydoux, Dave Bautista, Naomie Harris, Ben Whishaw, Ralph Fiennes, Rory Kinnear, Andrew Scott, Monica Bellucci, Alessandro Cremona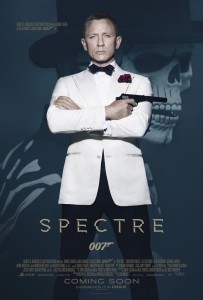 Daniel Craig is back for his fourth outing as James Bond, Agent 007. Back at MI6, the 00 program is at risk of being shut down after a new global surveillance initiative is being launched by the ruthless Max Denbigh, aka C (Scott). Bond causes a massive scene of destruction in Mexico City without being given the proper authority, which only fuels the move to terminate the 00 program. The current M (Fiennes) removes him from official 00 work, but we all know Daniel Craig's Bond is one stubborn guy and has reasons for his actions. He'll go rogue if he needs to in order to get to the bottom of something. Shortly after the last M's death, he was given a video to track down and terminate a known assassin by the name of Sciarra (Cremona). At his funeral, Bond meets his widow (Bellucci) who leads him to a larger secret organization known as Spectre. With the help of Moneypenny (Harris) and Q (Whishaw), Bond puts the pieces together to realize that the head of Spectre, Franz Oberhauser (Waltz), is directly related to his family's past and is the mastermind behind an ever larger plot against the people in Bond's life.
There's a massive opening sequence that takes place in Mexico City on Dia de Los Muertos (Day of the Dead). It's one of the most exhilarating and adrenaline fueled openings in Bond franchise. In true fashion, it leads into the new theme song "Writing's On the Wall" by Sam Smith. The opening poses as a reflection of those that have come and gone before us. The dead are very much alive in a sense as the story acts as a culmination of the events and characters from the Daniel Craig era of Bond movies (Casino Royale, Quantum of Solace, and Skyfall). Many characters and storylines are referenced and have direct consequences to this storyline and how Franz Oberhauser is brought into the picture. Many of the previous films stand on their own with rare carry over from one film to the next. I admire the approach the writing team of John Logan, Neal Purvis, Robert Wade, and Jez Butterworth has taken with making this a cohesive overarching story with the Craig films. It raises the stakes and creates a larger atmosphere to understand and care for this version of Bond. That being said, it makes it all the more necessary to have seen the last three to get a full understanding of what's going on with this one.
This approach continues on with the more realistic and grittier take on Bond while also taking into consideration the history of the character long before Craig took over. If you know your Bond franchise, you'll pick up on little nods and characteristics that they've brought back into play. It boasts a token train sequence reminiscent of From Russia with Love, a snowy mountain chase, the silent but deadly henchman Hinx (Bautista), and a major third act reveal. As a fan of the franchise, these little touches had me cheering. Others may be less than impressed with the attempt at these throwback choices when we haven't had them in the Craig movies so far.
Spectre has a majority of the same creative team as the last Bond film, Skyfall, including director Sam Mendes. It's beautifully shot by Hoyt Van Hoytema (Interstellar) who takes over DP duties from Roger Deakins. He captures the essence of the London hustle and bustle, the Italian architecture, and the lush snowy Austrian mountainside. Daniel Craig is also back to playing the moody Bond. He continues to prove why he's one of the best actors to play the role. He's suave, commanding, sophisticated, sexy, and has a very dry sense of humor. He is also listed as one of the film's producers and you can see his dedication with his performance and what he, Mendes, and the writers have brought to the table with this film.
In what could have been an over-the-top villain role, Christoph Waltz keeps his flamboyant side to a minimum and makes Oberhauser quite menacing without overdoing it. It's no surprise why they wanted him as the film's main villain. Léa Seydoux (The Grand Budapest Hotel) and Monica Bellucci (The Passion of the Christ) are the token Bond girls. Seydoux's Madeleine Swann is a new love interest for Bond and is the daughter of a previous character in the series. She's not the helpless love interest either. Bellucci is the secondary Bond girl with a whopping five minutes of screen time.
Our core characters at MI6 are all back and the script makes good use out of them by putting them right in the middle of the action. Moneypenny is no longer stuck behind the desk nor is Q kept in the lab. As Q, Ben Whishaw is given a few good scene-stealing one-liners along the way. Ralph Fiennes takes over the noble duties of M as we saw the death of Judi Dench's M in Skyfall.
Spectre is the longest Bond film to date and could use some cuts along the way. There's no reason it has to be two and a half hours. I knew going in that it couldn't be as masterful as Skyfall was. You only set yourself up for disappointment if you expect Skyfall quality. If Daniel Craig decided to hang up the suit and holster the gun, I would be content with that. Spectre has a nice polished feeling and provides the right amount of closure for what Craig has brought to the series.
Is It Worth Your Trip to the Movies? Bond fans like myself will no doubt enjoy it; others may not fully appreciate it if they don't have a deep history for it.
RATING: 4 out of 5 TICKET STUBS