SPY
Writer/Director: Paul Feig
Starring: Melissa McCarthy, Jude Law, Jason Statham, Rose Byrne, Bobby Cannavale, Miranda Hart, Allison Janney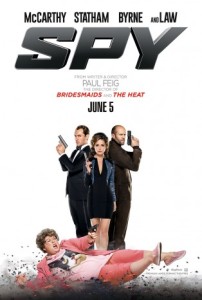 Let's cut to the chase. Melissa McCarthy is one of the funniest actresses working today and is starring in one of the funniest movies of the year. In Spy, she plays CIA agent Susan Cooper who is quite content sitting behind her desk monitoring dangerous situations for field agent Bradley Fine (Law). She has a severe crush on him, as he is completely dashing and debonair like any spy should be. He has been working on a mission to track down the location of some nuclear weapons. After his mission is compromised, the CIA find themselves in a jam as their known targets (Byrne, Cannavale) now know the identities of all of their field agents. Susan volunteers to go undercover and head to Europe in order to track them down. Deputy director Elaine Crocker (Janney) accepts her proposal and gives her the makings of an all-new identity (or two or three), one of them being a frumpy cat lady.
2015 seems to be the year of the spy movie. Spy cleanses our thirst of the genre in between Kingsman: The Secret Service and the next Bond film Spectre coming in November. There's also Mission: Impossible-Rogue Nation coming in July. What's great about all of these is that they all handle the genre a bit differently with their own stylish flair. As you can tell, Spy takes the comedic route akin to Get Smart or Austin Powers. They're tricky to do well because you want to be able to spoof the genre and pay homage without falling on stupid jokes and idiotic characters that usually come along with this territory.
This is the latest film from writer/director Paul Feig who also directed The Heat and Bridesmaids, both starring Melissa McCarthy. They'll team up again next year for the reboot of Ghostbusters. What's great is that Feig knows how to write for his actors. Every actor gets to be funny in his or her own way as this isn't just another McCarthy vehicle. She's leading a diverse crew playing opposite Jude Law, Rose Byrne, Jason Statham, Bobby Cannavale, and the always-funny Allison Janney. We're even graced with a cameo by Curtis "50 Cent" Jackson. Cannavale and Byrne try to make us forget that they were both in the Annie remake by starring as the two terrorists. Cannavale can play greasy and villainy so well. With Bridesmaids and Neighbors before this, Byrne proves, yet again, she can tackle comedy with ease.
The surprises of the film come from Jason Statham (The Transporter, Snatch) and Miranda Hart ("Call the Midwife"). Hart is an absolute stitch as the plucky sidekick that's the friend/coworker of Susan Cooper. We're so used to seeing Statham as the tough macho guy, but he gets to play a caricature of that here. He's another CIA field reporter who's out to prove that McCarthy's character is out of her element and cannot do the mission. He shows up in her hotel room when she arrives in Paris and will consistently try to state his worth with the number of valiant and risky things he's done in the past. He's shockingly funny, and it's nice to see him lighten up a bit.
This is by far McCarthy's best movie since Bridesmaids. She was falling into a rut of playing unlikeable and crass characters after movies like Identity Thief, The Heat, and Tammy. St. Vincent was great but didn't reach a big enough audience. Even if those characters didn't always work, I admired McCarthy for putting everything she had out there. She's a fearless actor that is committed to doing anything for the character. She uses that same approach here with the role of Susan Cooper. She still gets to be her usual charming and sassy self, and her character gets to be smart, gorgeous, and can kick some serious butt. She delivers so many comebacks and witty zingers that range from safe to shocking and politically incorrect. She's wearing a frumpy sweater in one scene, a stunning green dress in the next while dodging knives, bullets, and hangs off a helicopter. I couldn't get enough!
Spy has all of those fun trademarks from various spy movies: gadgets, double agents, secret identities, twists and turns, and a fun James Bond-inspired opening credit theme song called "Who Can You Trust" by Ivy Levan. I have already listened to it multiple times on iTunes. It's one of those comedies that is consistently fun the whole way through without having everything previously given away in the trailer. You walk out of the movie smiling and maybe quoting a favorite scene. For me, it was the "Cagney and Lacey" bit that I'm still chuckling at days after seeing it. Feig has created the potential for a franchise or sequel if done correctly with new villains, new gadgets, and hopefully more tragic identities for McCarthy.
Is It Worth Your Trip to the Movies? Melissa McCarthy is back and in top form.
RATING: 4 out of 5 TICKET STUBS