THE HATEFUL EIGHT
Writer/Director: Quentin Tarantino
Starring: Kurt Russell, Jennifer Jason Leigh, Samuel L. Jackson, Walter Goggins, Bruce Dern, Michael Madsen, Tim Roth, Demian Bichir, Channing Tatum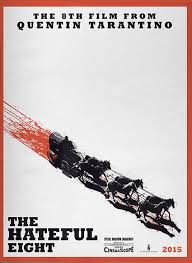 All you are going to want for Christmas this year is to see a bunch of nutty Quentin Tarantino characters stuck in a cabin together in the middle of a blizzard. I'm sure you can already guess how that is going to end. Blood. Blood. And more blood! Shortly after the Civil War has ended, Major Marquis Warren (Jackson), a bounty hunter, needs a ride to Minnie's Haberdashery in Wyoming before the blizzard gets any worse. He spots a stagecoach coming his way and stops them for a ride. Inside is John Ruth (Russell), aka "The Hangman", a fellow bounty hunter who is handcuffed to Daisy Domergue (Leigh). There's a $10,000 reward for her and John is taking her to the Red Rock jail. The three of them head to Minnie's only to get stopped by another wayward walker who claims to be Chris Mannix (Goggins), the new sheriff of Red Rock. They decide to pick him up as well, and the four of them make their way to Minnie's Haberdashery just in time before the blizzard gets too bad. At Minnie's they find four more gentlemen (Bichir, Madsen, Roth, and Dern) waiting out the storm. It's there at Minnie's where wild truths and stories start to unravel on how our hateful eight are connected.
Only Quentin Tarantino can get away with making this type of movie. If you see the Roadshow presentation of the movie, you will feel like it's a special event, as Tarantino wants to harken back to the old days of seeing grandiose movies in the 1950s and 1960s. It will be presented on film as he shot it using Ultra Panavision 70 cameras. It makes the image wider and captures more detail. This version will be longer than the standard cut that will play in most theaters. In this version, he starts out with an overture where you listen to legendary composer Ennio Morricone's score that sets the stage for what is about to unfold. Morricone scored many of the Sergio Leone spaghetti westerns and has frequently composed Tarantino's films. He has the perfect background and his epic score precisely compliments the mood of The Hateful Eight. Can he please win the Oscar?
Like many other Tarantino films, his style is in full force. The movie is divided into chapters and not always told in linear fashion with the second act taking what we know from the first and flipping it on its side. I don't want to say more and venture into spoiler territory. An intermission is included in the Roadshow presentation and helps break up the pace so it doesn't feel like its being dragged out for too long. Tarantino's previous film, Django Unchained, suffered as it ran too long in its final act. The Hateful Eight plays very theatrically, more so than some of his other films. A majority of the action takes place within the tight confines of the haberdashery, and it feels as if it could easily translate to the stage.
While it's part western, it also plays out like a mystery as you wait and see who will be the first to go. I'm not really giving anything away as a shootout always happens in a Tarantino film. His characters are larger than life, and our main eight are one argument away from completely snapping and shooting up the place. It's a ticking time bomb with plenty of surprises along the way. I was completely unaware of just where the story was going, what would be revealed, and how it would all end. With Tarantino, you know there's a sick and twisted sense of humor that will make you laugh at the worst places, especially when you know you shouldn't be laughing.
The Hateful Eight clearly feels like Tarantino and his cast are having a barrel of fun. It probably wasn't an easy shoot, but it doesn't show. It is racially charged at times, but doesn't come off as heavy and hard to watch like Django Unchained. It feels like a Tarantino Greatest Hits movie as he has gathered plenty of actors he's worked with before (Jackson, Goggins, Madsen, Dern, and Roth) and throws them into the same movie for another wild adventure. He gets brilliant performances out of his actors, especially Walter Goggins and Jennifer Jason Leigh. Can we see some nominations thrown their way? It's a bloody good time that's lavish, over the top crazy, and every bit as enjoyable as some of the other films in his canon.
Is It Worth Your Trip to the Movies? Go out and see the special 70mm Roadshow presentation. This sort of movie going experience is a rarity nowadays.
RATING: 4.5 out of 5 TICKET STUBS