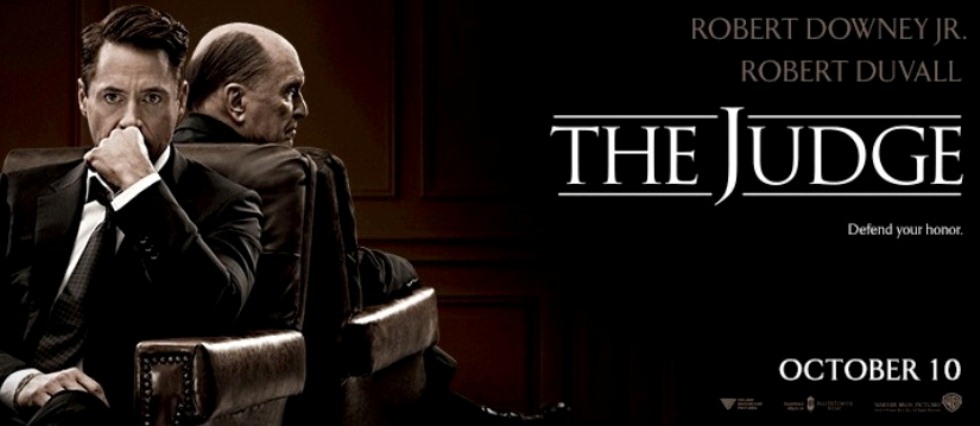 THE JUDGE
Director: David Dobkin
Starring: Robert Downey Jr., Robert Duvall, Vera Farmiga, Billy Bob Thornton, Vincent D'Onofrio, Jeremy Strong, Dax Shepard, Leighton Meester, David Krumholtz, Ken Howard
Tony Stark vs. Tom Hagen. Robert Downey Jr. vs Robert Duvall. They lead an all-star cast in the family legal drama, The Judge. Hank Palmer is that hotshot big city lawyer that never loses a case. As you've seen in the trailer, he's so cocky he pees on his assistant (Krumholtz). Just before they are about to hear a verdict, he gets the dreaded phone call informing him that his mother has passed away. He drives back to his small hometown to be with his brothers (D'Onofrio and Strong) and their father Judge Joseph Palmer (Duvall).
Hank's trip back home takes another turn when his father is accused of allegedly hitting and killing a man with his car. The man just happens to be someone he once presided over in court. There is blood on his car and all the evidence points back to him directly, but Judge Palmer has no recollection of the incident. Despite the fact that Hank and his father have a very fractured relationship, he takes on the task of being his father's lead attorney. It's a huge case that could kill and destroy the strong reputation his father once had as being the top judge in the city. To make matters worse, Judge Palmer has been hiding the fact that he has stage four cancer. Hank is going through his own issues as he is in the early stages of getting a divorce from his wife.
This film has all the right ingredients to be a powerful story, but it falls so flat that it's a real wonder why such a dynamic cast signed on for such a lousy script. It's co-written by first timer Bill Dubuque and Nick Schenk (Gran Torino). There's a very generic wash over it that feels like they wanted to do a legal drama but didn't have enough experience with the law or the court to write it with some intelligence behind it. I felt like they watched some old episodes of Law & Order just to get some of the basic legal jargon down. I've seen better writing on an hour-long TNT drama. At a very long run time of two hours and twenty minutes, there is an abundance of characters and side stories that completely over stuff the movie and take away from the father/son conflict at its core. Hank is the only character that seems to be given this massive back story that doesn't really serve a purpose. He has a wife that he is divorcing and a daughter that he brings with him back home. There is also the old flame (Farmiga) and a bartender (Meester) that come into play. I love Vera Farmiga dearly, but her storyline with Downey is a prime example of a sub-plot that takes up too much time. Dax Shepard plays the dim-witted attorney that is also working on the Judge Palmer case. Again, there are scenes and bits with him that take up too much time. His sole purpose seems to be just to provide some laughs as the "much needed" comedic character. It's a script that's bursting with clichés and not-so-surprising revelations that many of these supporting characters fall victim to this and feel like generic characters you would find in a "how to write a family legal drama" manual.
The Judge is the first film for Robert Downey Jr.'s new production company Team Downey. It's evident that he wanted to tackle a different character than Iron Man or Sherlock Holmes as he has been stuck in those franchises for the past decade. While I applaud the effort and desire, I couldn't help but feel like he was just playing Tony Stark (Iron Man's alter ego) the whole time. This character is another arrogant and hot-tempered individual like Stark.  I could hear him reverting back to old vocal cadences he's used as Stark. He's not the only character like this in the movie. Robert Duvall and Vincent D'Onofrio have their bullheaded moments as well. Too many hot tempers flare up with too many father/son meltdown scenes when it just feels like forced drama that is easy to write to create tension. David Dobkin is trying to stretch his range into dramatic territory as he has primarily directed comedies before with Wedding Crashers, Fred Claus, and The Change-Up. He seems a bit out of his league here, and I wish he would have been able to see these actor traits coming out and really challenge Downey and Duvall to try something different.  Instead, he probably just trusted their instincts and took a more back seat approach to shaping some of the scenes.
It is exciting to see Downey and Duvall in their first movie together. Both carry a strong screen presence that should have been exhilarating to watch. With Billy Bob Thornton, Vera Farmiga, and Vincent D'Onofrio joining them, there could have been the potential for it to be a touching movie that really resonated with moviegoers. Instead there is nothing fresh or original at hand when it's painfully obvious that it's trying really hard to be just that.
Is It Worth Your Trip to the Movies? No. So many talented actors in such a long, drawn out movie.
RATING: 2 out of 5 TICKET STUBS