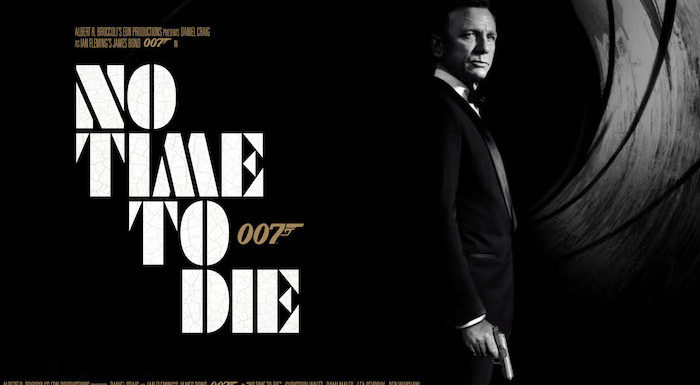 NO TIME TO DIE
Director: Cary Joji Fukunaga
Starring: Daniel Craig, Rami Malek, Léa Seydoux, Lashana Lynch, Ben Whishaw, Jeffrey Wright, Naomie Harris, Christoph Waltz, Ralph Fiennes, Ana de Armas
Bond. James Bond. Agent 007 is back in theaters for a thrilling new mission. No Time to Die is the 25th Bond movie, and Daniel Craig is back again as Bond and looks more pissed off than ever before.
There's trailer is a perfect little tease as it keys us in on a few things. Léa Seydoux's Bond girl Madeleine Swann from Spectre will have an active role in this film. Specter villain, Blofeld (Christoph Waltz), pops up for a potential cameo and could be taunting Bond as he's locked away in confinement. The key villain for this film is Rami Malek's character, Safin. Lashana Lynch (Captain Marvel) surprises Bond by revealing herself to be a 00 agent. Bond staples Q, Moneypenny, M, and Felix Leiter all have something to say about Bond's return as well.
On the creative end, director Sam Mendes passes the torch to Cary Joji Fukunaga. Fukunaga made waves for True Detective Season 1 and Beasts of No Nation for Netflix. I completely trust his vision as he seems to carry on a similar artistic eye that Mendes had for his Bond movies. It's also exciting to hear that Emmy winner Phoebe Waller-Bridge (Fleabag) was brought it for script rewrites. What we don't know yet is who will be singing the theme song. Adele and Sam Smith both won Best Original Song Oscars for their contributions, so it's vital we get a big epic theme to carry on the tradition.
In theaters: April 2020
Here's the trailer:
For more Bond fun, check out:
"The Bond, James Bond Challenge" that was made for the release of Skyfall.
My Definitive Ranking of the James Bond theme songs