PULP FICTION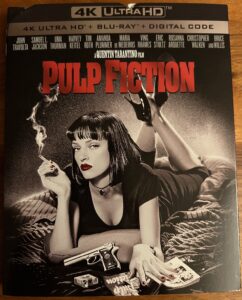 Paramount Home Entertainment is proud to present Quentin Tarantino's instant masterpiece Pulp Fiction for the first time in 4K. The new release is two discs with the 4K, Blu-Ray, and a digital copy of the film. Tarantino's second film rocked audiences back in 1994 and has continued to gain a new following in the years since. There was no other film like it with its singular voice and dialogue, explosive characters, and its interweaving narratives told out of chronological order. Roger Ebert named it his #2 film of the 1990s. The film was nominated for seven Academy Awards including Best Picture and won for Best Original Screenplay for Quentin Tarantino and Roger Avary.
I revisited it a few years ago upon the release of Tarantino's Once Upon a Time…In Hollywood, and it still completely holds up with truly memorable performances from Samuel L. Jackson, Uma Thurman, John Travolta, Bruce Willis, and Tim Roth, just to name a few.
SPECIAL FEATURES
Disc 1:
-4K Ultra HD Feature Film
-Not the Usual Mindless Boring Getting to Know You Chit Chat(HD)
-Here are Some Facts on the Fiction (HD)
-Enhanced Trivia Track
DISC 2:
-Blu-Ray Feature Film
-Interviews with Cast
-Behind-the-Scenes Footage
-"Pulp Fiction: The Facts" Featurette
-Production Design Featurette
-Siskel & Ebert "At the Movies" – "The Tarantino Generation"
-Independent Spirit Awards Footage
-Cannes Film Festival Footage
-"The Charlie Rose Show" Tarantino Interview
-Stills Galleries
-Trivia Track
-Deleted Scenes
-Marketing Gallery
-Soundtrack Chapters
Remind me again how Samuel L. Jackson didn't win the Oscar? Here's a clip from THAT iconic scene…
And who can forget this unforgettable dance? Uma Thurman was only 24 when this film came out!