MAGIC MIKE'S LAST DANCE
Director: Steven Soderbergh
Starring: Channing Tatum, Salma Hayek Pinault, Caitlin Gerard, Gavin Spokes, Ayub Khan-Din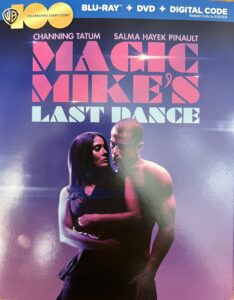 I don't think anyone would have predicted Magic Mike would have spawned into a movie trilogy, a docu-series on HBO Max, and multiple live productions including a Vegas experience. Now Channing Tatum is back for Magic Mike's Last Dance. He's led this franchise as Mike Lane for all three films, and now Mike's days of stripping are long over and his days making furniture have also ended. He's now working as a bartender for private events. His latest client is Maxandra Mendoza, played by Salma Hayek Pinault. She's a wealthy housewife going through a nasty divorce. She pays him for a private lap dance, and then pitches Mike an offer in London too good to pass up even if he doesn't know exactly what the job is. He says he's retired from dancing, and yet, she hires him to rejuvenate and choreograph a period drama that's playing at a theater she owns and give it that Magic Mike touch.
Blu-Ray Special Features
-"Magic Mike's New Moves" – Six-minute making of video. Channing Tatum details how doing the live Magic Mike shows made him want to do a third movie. There are interviews with the choreographers discussing the focus on dance over stripping, and incorporating dancers from the live show into the film.
-Deleted Scene – 8 minute deleted scene
Here's my review