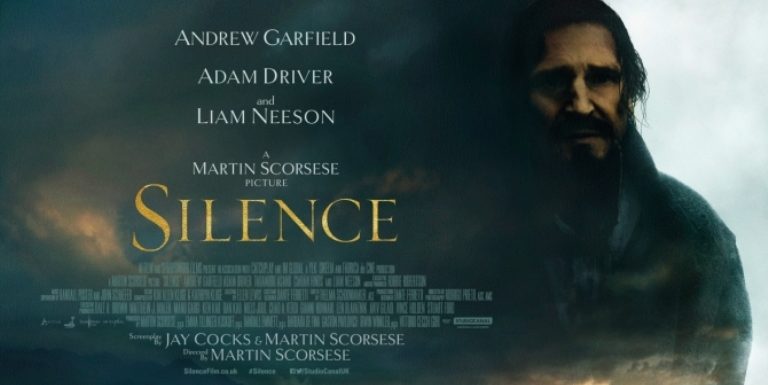 SILENCE
Director: Martin Scorsese
Starring: Adam Driver, Andrew Garfield, Liam Neeson, Ciarán Hinds, Tadanobu Asano, Issei Ogata, Yôsuke Kubozuka
If you look back at the fifty year career of filmmaker Martin Scorsese, you will see a wide range of stories each filled with a passion and vigor for it's subjects. He may be best known for his gritty crime dramas, but the ardent fans know he's had a long history of studying Catholicism and faith. His latest film, Silence, will frequently be described as his passion project as he's been working on it for nearly thirty years. He was first inspired after reading the 1966 source novel by Shûsaku Endô. As you will come to learn and realize, this is neither your standard studio blockbuster nor that kind of film that can be easily made and distributed.
In the early 1600s Japan, a company of Jesuit priests were being burned and tortured by local government officials for not renouncing their Christian faith in Buddhist land. Two Portuguese priests, Fathers Rodrigues (Garfield) and Garrpe (Driver), receive a letter stating that their mentor Father Ferreira (Neeson) is now living in hiding for committing apostasy. They do not believe it to be true as they claim he is one of the most devout priests in the order. They claim he would never renounce his faith no matter how bad it got. Due to this, they feel they have no choice but to travel to Japan in secret to save his soul. They have been warned of the high danger and that their lives are at stake if caught by the same officials who have tortured and killed those Jesuits who came before them. Rodrigues and Garrpe are greeted as holy figures by the local Christians in the village who live in hiding. They are given sparse shelter and food and perform their missionary work at night in hopes of not getting caught. The horrible living conditions become too much for the priests. After their eventual separation, Father Rodrigues is caught and imprisoned. He finds that his faith continues to be tested at the hands of a wayfaring villager named Kichijiro (Kubozuka) and their leader, Inoue (Ogata), who's known as the inquisitor.
I feel like whenever you step into a Scorsese movie, you are tasked with going into a cinematic gauntlet. So rarely does he make it easy for the moviegoer to slip in and turn their mind off. This is why he's one of the greatest directors of all times. In my opinion, they are rarely boring, slow, or too long if you are willing to give into the story and themes he is trying to convey on screen. He has written the film with frequent collaborator Jay Cocks who also worked on Gangs of New York (2002) and The Age of Innocence (1993). Silence may seem like the antithesis to many of Scorsese's popular gangster movies. Just look at the characters and world depicted in his last film, The Wolf of Wall Street, and you'll notice the power-hungry, boozy characters obsessed with money and women and you'll see a stark contrast to the time and place of Silence. Devout fans know he's also made a few films looking at religious figures and the role of spirituality in our lives. One could think of this film as part of an unofficial trinity of his including the controversial The Last Temptation of Christ (1988) and Kundun, his 1997 film about Tibet's Dalai Lama.
In an age of movies where everything needs to be fast-paced to keep our attention, Silence asks us to slow down like we do in meditation. Scorsese doesn't rush a single moment, yet fills the movie with exquisite imagery thanks to cinematographer Rodrigo Prieto. The dialogue is kept to a minimal amount during the first half making use of voiceover narration with Father Rodrigues' journal entries. It's intentionally quiet and introspective detailing the continual debate he has with God and his faith. At one point he tells God, "The weight of your silence is terrible." There's been a run of faith-based movies released in theaters in the last few years. Many try to reinterpret the Bible while others claim to be modern day miracles. Too many seem to be preaching to their own choir. Scorsese leaves you asking questions but doesn't tell you what every answer should be. He asks the audience to contemplate the multitude of concepts that plague Fathers Rodrigues, Garrpe, and Ferreira. These will no doubt resonate with audiences that look toward God or another deity in their life. How do you try to understand God despite the suffering that surrounds us? How do you draw inspiration and hope from others? What does it mean to lose faith and question your path in life?
There is an unsettling nature at hand in the first half as you know it's only a matter of time before one of the priests is captured. Scorsese ramps up the intensity a little more after he is captured but still shows a bit of restraint with the torture scenes. They are aching to watch, but they're executed long enough to prove their point without feeling unwatchable. For someone who was raised Catholic, it's alarming to see scenes where they are forced to step on tablets with Jesus on them, spit on crucifixes, or even hung out on crosses to be drowned by the crashing waves on shore. He asks a lot out of Andrew Garfield, Adam Driver, and Liam Neeson. All three give exceptional performances, and because he's Scorsese, they will put themselves through the physical and mental demands that are being asked. This is the second film this year following Hacksaw Ridge where Andrew Garfield plays a man who is continually chastised for his faith. Scorsese also gets rich performances from many of his Japanese actors including Yôsuke Kubozuka and Issei Ogata. As Kichijiro, Kubozuka has a mysterious and untrustworthy tone to him when he repeatedly pops up to ask Garfield's character for forgiveness. Ogata is the film's main villain as Inoue. There's an oddly sinister laugh and look he has making him all the more vile and proof of being evil incarnate.
Like many of Scorsese's films, it runs close to three hours and that's after the trusty Thelma Schoonmaker cut it down. Silence is not a movie you go into looking to be entertained. If you need that, go watch The Departed or Goodfellas. This is the kind of movie where you leave knowing it will sit with you and make you contemplate various aspects of your life and the role faith and spirituality have in it. Scorsese packs a lot in his film to be taken into consideration. You won't leave the theater in a cheerful mood nor do you come out with every question answered. I've been thinking about it every day since I saw it and am very much looking forward to taking it all in again. This and every other Scorsese movie. If only I had the time.
Is It Worth Your Trip to the Movies? For a career that spans fifty years, Scorsese has made one of his most personal films to date.
RATING: 4.5 out of 5 TICKET STUBS