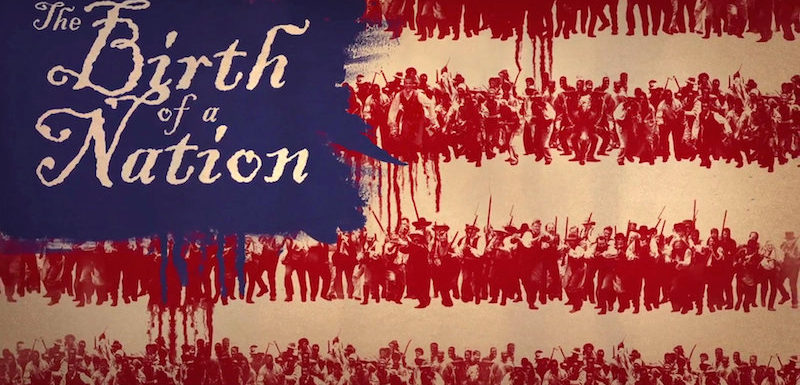 THE BIRTH OF A NATION
Writer/Director: Nate Parker
Starring: Nate Parker, Armie Hammer, Aja Naomi King, Penelope Ann Miller, Jackie Earl Haley, Colman Domingo, Gabrielle Union
You don't go into every movie hoping to be entertained. Some movies are made to shine a light on our past. It's then up to the viewer to determine where we've come from, what we have learned, and how history tends to repeat itself. The Birth of a Nation is that kind of movie. It's a look into a very dark portion of our nation's past centered around Nat Turner (Parker). He was told as a young boy that he was a child of purpose and would one day be seen as a prophet. He was taught at an early age how to read the Bible from Elizabeth Turner (Miller), the wife of the slave owner on the plantation he lived on. He stayed on that plantation and grew up picking cotton and leading church services for the other slaves. Elizabeth's son Samuel (Hammer), who is roughly Nat's age, takes him on a preaching tour in order to gain a profit. During one outing Nat convinces Sam to take in a young woman named Cherry (King) to work. They would later fall in love and have children together. Throughout Nat's work spreading the Lord's word, his eyes are opened up to the horrific conditions many other slaves are forced to endure. The friendship he has with Samuel as slave and owner was not found on other plantations. He is continually haunted by his prophecy and now believes he has found his mission in life. It's not just to preach but also to lead a rebellion of slaves to fight for their freedom.
As an actor, Nate Parker has been seen in various films like Non-Stop and Beyond the Lights. The Birth of a Nation is very much his passion project as he has written, directed, and produced the film as well as playing the lead. It's by far the biggest project he has worked on based on the minimal credits to his name. He has a strong supporting cast next to him none of whom outshine the film hoping for an award in the end. Armie Hammer (The Social Network, The Man from U.N.C.L.E) is the most recognizable face in the film. Hammer gets you to like Sam at first and appreciate the childhood friendship he has with Nat. It makes it all the more shameful as he spirals into a drunken mess leading to him turning on Nat. Aja Naomi King (How to Get Away with Murder) is another one to watch for as Cherry.
It has the look and feel of an independent film as opposed to a big budget, polished Hollywood epic with A-list stars. It's a bit rough and uneasy around the edges, which plays to Parker's advantage. It can be easier to focus in on the story when you don't have any preconceived notions of the actors or director's previous work. There's also a bit of unintentional restraint at hand thanks to Parker's inexperience as a filmmaker. Sometimes with bigger pictures, there's an attempt to over dramatize brutality to make a point. I didn't get that vibe here. Don't get me wrong; The Birth of a Nation is not an easy film to watch. The scenes of torture elicit audible reactions. It is violent, unnerving, and hits that pit of your stomach. There are lasting images that sit with you long after the movie, but Parker makes it effective without drawing it out to the point of turning off the audience to the entire movie.
This isn't just a film about the brutal conditions of slavery. Parker brings hope and strength to Nat Turner and the role spirituality plays in his life. It's hard for him to maintain faith and belief in God when the abuse continues to grow around him and conditions don't improve. It's an interesting way to look at spirituality and what he believes God has called him to do. He is told at one point, "If the Lord calls you to fight, you fight. You fight for us all." For a man who believes in peace, there's a moral juxtaposition to face if you are using God or other religious beliefs to bring about war and murder. Is it justifiable for him to take those actions based upon what his fellow slaves had encountered?
Parker's look at Nat Turner's life and rebellion feels all the more timely given the culture we live in. His dialogue at times feels ripped from the current conversations being had as members of our communities are being shot and killed based on racial profiling. This film can hopefully strike up dialogue about the recent tragedies that have occurred, not only about the events themselves, but how do our reactions and the aftermaths reflect what happened during Turner's life.
Nate Parker and his film bolstered standing ovations when it premiered at the Sundance Film Festival. It's a strong film showcasing him as an upcoming filmmaker and storytelling. Since then, controversy has surrounded the film's wide release. Not because of the subject matter, but due to Parker's past. He was tried and found innocent of rape when he was in college, but the charge has now resurfaced. I had debated about bringing it up in my review, but it's another conversation that can be had as to whether you let the filmmaker's questionable personal life affect your decision to take in and support their art.
Is It Worth Your Trip to the Movies? It's a controversial film, but a story that should be known.
RATING: 4 out of 5 TICKET STUBS