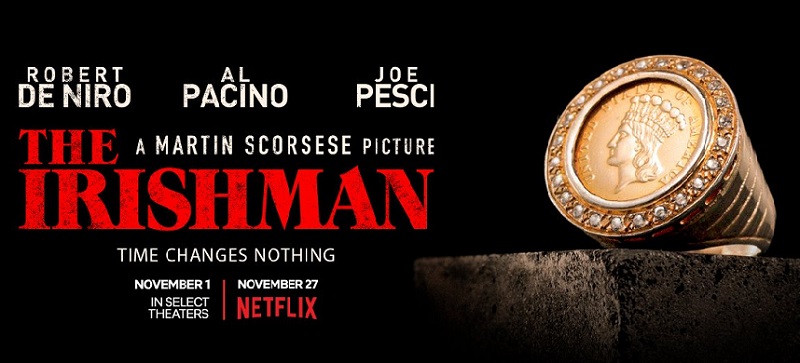 NETFLIX ANNOUNCES RUN TIMES AND RELEASE DATES FOR "THE IRISHMAN"
Netflix alerted audiences this week that Martin Scorsese's new epic, The Irishman, will run 210 minutes. That's 3.5 hours. And you thought Avengers: Endgame was long. Scorsese is no stranger to making long movies, so this should come as no surprise. It marks his longest film to date, but does it really even matter? When you have one of the greatest living directors reteaming with his trusted company of actors including: Robert De Niro, Al Pacino, Joe Pesci, and Harvey Keitel, you let the master do his thing. It's not just his cast that should be noted but also longtime collaborator editor Thelma Schoonmaker and cinematographer Rodrigo Prieto.
Here's the official synopsis from Netflix
Robert De Niro, Al Pacino and Joe Pesci star in Martin Scorsese's THE IRISHMAN, an epic saga of organized crime in post-war America told through the eyes of World War II veteran Frank Sheeran, a hustler and hitman who worked alongside some of the most notorious figures of the 20th century. Spanning decades, the film chronicles one of the greatest unsolved mysteries in American history, the disappearance of legendary union boss Jimmy Hoffa, and offers a monumental journey through the hidden corridors of organized crime: its inner workings, rivalries and connections to mainstream politics.
Having read the book "I Heard You Paint Houses" by Charles Brandt, which serves as the source material for the script, I can assure you why that the run time makes sense. The Irishman will be released in theaters beginning November 1st and on Netflix November 27th. I appreciate Netflix allowing us cinephiles to be engrossed in Scorsese's film properly on the big screen while others may need to ingest it at home. They can have a bathroom break and get some snacks. I just hope home viewers can put their phone down the whole time and not get distracted.
Here's the trailer