Paramount Home Entertainment is proud to present two new films on Blu-Ray and 4K this week that feature some of the GOATs in Hollywood with Jane Fonda, Lily Tomlin, Rita Moreno, Sally Field, Robert Duvall, and Morgan Freeman. I already lost track of how many Emmys, Grammys, Oscars, and Tonys they collectively have. As you know, I love physical media and am passionate about owning a movie library and hope you check out these new releases. Here's what to expect with each release.
80 FOR BRADY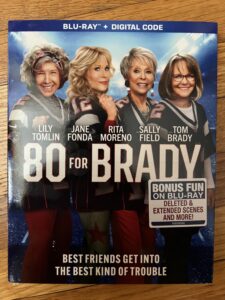 Jane Fonda, Lily Tomlin, Sally Field, and Rita Moreno are legends, icons, trailblazers of the big screen. They've won every award that can be handed out, and now they're all starring together in the winning comedy 80 For Brady. The film is inspired by the true story of a group of friends all over 80 and die-hard fans of football player Tom Brady.
Lily Tomlin stars as Lou, who you could say is the glue that holds this friendship together. It's been a standing tradition for her friends Maura (Moreno), Trish (Fonda), and Betty (Field) to gather on Sunday and watch Tom Brady and the New England Patriots. They even have their superstitions like knocking over a bowl of chips and Betty standing on a ladder as the game starts. It's Lou who suggests the four of them head to the Super Bowl to have that once in a lifetime experience. Their trip involves busting Maura out of her retirement home, a hot wings contest with Guy Fieri and sneaking into the big game thanks to Billy Porter's character.
SPECIAL FEATURES
-Deleted & Extended Scenes
-The Game Plan: Making 80 For Brady
The GOATs: Jane, Lily, Rita & Sally
-The Visiting Team: Meet The Supporting Cast
The Largest Comeback in Super Bowl History
DEEP IMPACT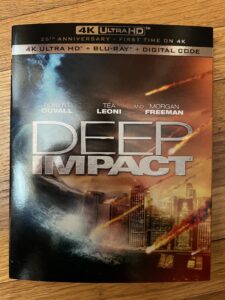 The 1990s saw a big rise in the apocalyptic disaster films from movies about volcanos (Dante's Peak, Volcano) and space objects (Armgaddeon, Deep Impact.) Not only do we get a massive comet barreling toward Earth in Deep Impact, but we get Morgan Freeman playing the President of the United States. It had an all-star cast with Robert Duvall, Tea Leoni, Vanessa Redgrave, Leelee Sobieski, Elijah Wood, and Blair Underwood joining Freeman in an attempt to save the planet. How? Well, you send a crew of astronauts in a spacecraft to the comet's orbit hoping an arsenal of nuclear combs will destroy it before it hits Earth.
By the way, where is Leelee Sobieski these days? Did she quit Hollywood and retire? Director Mimi Leder would go on to direct On the Basis of Sex, The Peacemaker, and episodes of The Morning Show.
SPECIAL FEATURES
-Commentary by Director Mimi Leder and Visual Effects Supervisor Scott Farrar
-Preparing for the End
-Making an Impact
-Creating the Perfect Traffic Jam
-Parting Thoughts
-Photo Gallery