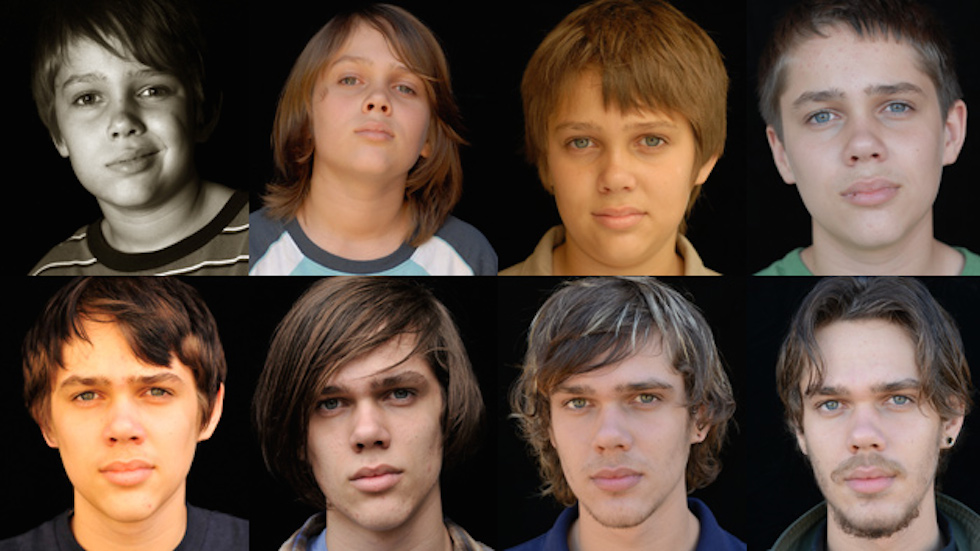 PAUL'S YEAR AT THE MOVIES: 2014 EDITION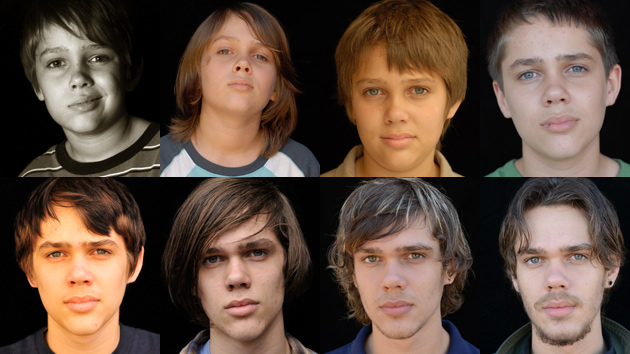 Every year I like to take a look back at my year at the movies. I stole the idea from my friend Max who likes to list every new movie he sees in any given year. This year I sat down and watched 128 new movies. By new, I mean movies that I was seeing for the very first time, whether they were old classics or 2014 releases. 94 of those 128 were 2014 releases. According to my 2013 Edition, I saw 119 films 81 of which were 2013 releases. I suppose 128 is a decent number, but there's some room to grow and fit in a few more movies. More importantly, this year marked a huge professional dream of mine as I became a televised film critic. On March 26, I started my run as the film critic on Twin Cities Live, a Minneapolis based talk show on the local ABC affiliate. I'm on every Friday, and it has been an unbelievable experience. You can find all of my segments HERE.
Here's the list of the 128 new movies
Inside Llewyn Davis
Grudge Match
Drew: The Man Behind the Poster
Her
Safety Not Guaranteed
Anchorman 2: The Legend Continues
Thanks for Sharing
Cutie and the Boxer
On the Waterfront
That Awkward Moment
Warm Bodies
Lone Survivor
Ride Along
Eraserhead
Dirty Wars
Badlands
Labor Day
The Lego Movie
3 Women
About Last Night
Remember Me
RoboCop (2014)
The Square
20 Feet From Stardom
Non-Stop
Bottle Rocket
The Monuments Men
The Grand Budapest Hotel
Mulligans
Everything or Nothing
Veronica Mars
Bad Words
Elaine Stritch Shoot Me
Divergent
Muppets Most Wanted
Noah
Sabotage
Captain America: The Winter Soldier
Draft Day
The Railway Man
Transcendence
Heaven is for Real
Suspicion
The Other Woman
Short Term 12
Eating Raoul
The Amazing Spider-Man 2
Le Week-End
Neighbors
Million Dollar Arm
Godzilla
X-Men: Days of Future Past
How to Survive a Plague
The Normal Heart
The Killing
Chef
A Million Ways to Die in the West
Maleficent
The Fault in Our Stars
Edge of Tomorrow
22 Jump Street
How to Train Your Dragon 2
Jersey Boys
Transformers: Age of Extinction
Tammy
Life Itself
A Hard Day's Night
Begin Again
Dawn of the Planet of the Apes
Carrie (2013)
Sex Tape
Snowpiercer
Boyhood
I Origins
You're Next
A Most Wanted Man
Guardians of the Galaxy
The Hundred-Foot Journey
Teenage Mutant Ninja Turtles
Only Lovers Left Alive
42
The Giver
If I Stay
Sin City: A Dame to Kill For
Let's Be Cops
Sinister
Get On Up
The Trip to Italy
The Drop
This Is Where I Leave You
The Maze Runner
Hector and the Search for Happiness
Breathless
The Equalizer
Gone Girl
Annabelle
The Sacrament
The Judge
Alexander and the Terrible, Horrible, No Good, Very Bad Day
Fury
In a World…
Men, Women & Children
The Last Time You Had Fun
V/H/S: Viral
Just Before I Go
St. Vincent
Birdman
Kumiko The Treasure Hunter
The Imitation Game
Wild
Whiplash
Nightcrawler
Foxcatcher
The Orphange
Interestellar
Big Hero 6
Rosewater
Dumb and Dumber To
The Theory of Everything
The Hunger Games: Mockingjay Part 1
Into the Woods
Exodus: Gods and Kings
Big Eyes
The Hobbit: The Battle of the Five Armies
Stranger By the Lake
Top Five
The Babadook
Annie (2014)
Unbroken
The Interview
MY TOP 10 OF 2014
*Note: I have not seen American Sniper, Inherent Vice, Selma, or Still Alice at this time.
1. BOYHOOD

Richard Linklater's opus was twelve years in the making and touched me like no other film this year. I was moved by the journey I went with this family and the gentle way we watch them grow, age, and mature. It would seem implausible for a moviegoer not to connect with someone in the film. It is one of the most unique and thought-provoking films you will see all year or of any year recently. Here's hoping it gets showered with awards and that Patricia Arquette wins Best Supporting Actress.
2. WHIPLASH

I think it's rare when you leave a film completely speechless because you've been kicked in the gut so hard. It's that visceral reaction that happens as you sit in the movie theater chair that keeps you engaged and enraptured on what's unfolding before you. There is a moment in the film that completely knocked me out of my chair. I'm not saying what happens or when, but you expect that shock out of a horror film, not a movie about jazz music. Plus, I'm still haunted by J.K. Simmons' performance.
3. GONE GIRL

There was so much I loved about this movie, but I can't list all of those reasons here. Director David Fincher was the perfect choice to partner with author Gillian Flynn to bring her novel to the big screen. Even though I had already read the book, I was kept at the edge of my seat. Rosamund Pike completely nails the challenging role of "Amazing" Amy, and Ben Affleck gave one of the best performances of his career. The film also provided an interesting commentary on the role the media plays on cases like this.  It's a film that polarized audiences. Some loved it and some hated it due to its ending.  It prompted lots of discussion and heated arguments.  I always love when a film gets people talking.
4. LIFE ITSELF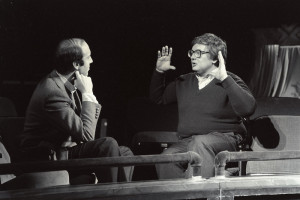 Documentarian Steve James partnered with film critic Roger Ebert to give a look back at his life and career. It's a beautiful and inspirational story of a man that not only loved the movies, but as the title suggests, life itself. It's fascinating to watch someone who never gave up in life no matter who sick he got.
Into the Woods just happens to be my favorite musical. While this might mean I'm super picky about it, I found myself loving the movie musical adaptation. Rob Marshall has made the best movie musical since Chicago. Large credit is due to the show's creators, Stephen Sondheim and James Lapine, who were directly involved with the movie. Standouts in the cast include: Meryl Streep (duh), Emily Blunt, James Corden, and Chris Pine.
6. BIRDMAN (OR THE UNEXPECTED VIRTUE OF IGNORANCE)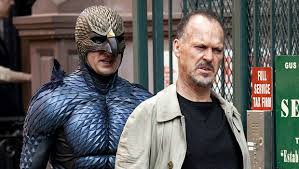 Alejandro González Iñárritu's meta film is one of the most original films I saw all year. It was a mind bender that was filmed by cinematographer Emmanuel Lubezki who made a bold choice to film the movie as if it's one long tracking shot that lasts for two hours. Michael Keaton, Edward Norton, and Emma Stone all gave fantastic performances playing characters who were extremely flawed and made some terrible and selfish choices.
7. INTERSTELLAR

Interstellar is a prime example of why going to the movie theater is so important. It is a cinematic ride that can only be truly experienced on the biggest IMAX screen with the best sound system. Nolan has pushed himself, his actors, and his audience to the extreme and the results are rewarding to say the least. I want to feel challenged and taken to a new place by a movie. If you allow yourself that release, Interstellar will do just that.
Where do I begin with Wes Anderson's latest? Is it the wildly imaginative characters? Is it watching Ralph Fiennes having a ball playing Gustave H, the the concierge and life of The Grand Budapest Hotel? Or is it the magnificent Tilda Swinton who has a small but vital role? I can't forget to mention his partnership with cinematographer Robert D. Yeoman. Each frame has a distinct look and tells it's own story. There are many more delicious morsels and layers to feast upon. Anderson knocked it out of the park again with his grandest and most ambitious film to date.
9. FOXCATCHER

I love a good true crime story. Bennett Miller's slow burn film focuses on a bizarre millionaire and his relationship with two brothers who were Olympic wrestlers that led to tragedy. Miller pulled out fantastic performances from his Steve Carell, Channing Tatum, and Mark Ruffalo. It's a film that hasn't quite received the attention I was hoping it would.
I purposely went into The Babadook with no knowledge of what was in store for me. All I will tell you is that there's a book, a monster, and a creepy kid! Writer/director Jennifer Kent crafted one of the best "scary movies" I have seen in years and boasts stunning performances by Essie Davis and Noah Wiseman.
**Honorable Mentions: The Imitation Game, The Theory of Everything, The Fault in Our Stars, Snowpiercer
WORST OF 2014
2014 was not a great year at the movies. The summer season was particularly bad. Let's start with the worst of the worst and work our way through some true pieces of garbage.
1. Transformers: Age of Extinction
2. Ride Along
3. Bad Words
4. Exodus: Gods and Kings
5. Sabotage
6. A Million Ways to Die in the West
7. Let's Be Cops
8. Annie
9. V/H/S: Viral
10. Tammy
*DIShonorable Mention: Transcendence
There you go! Those are my choices for the best and worst of the year. I'd love to hear your picks. Feel free to comment below on the films that left a lasting impression on you or the ones that you made you realize you will never get those two hours of your life back.
Here's hoping for a better 2015!