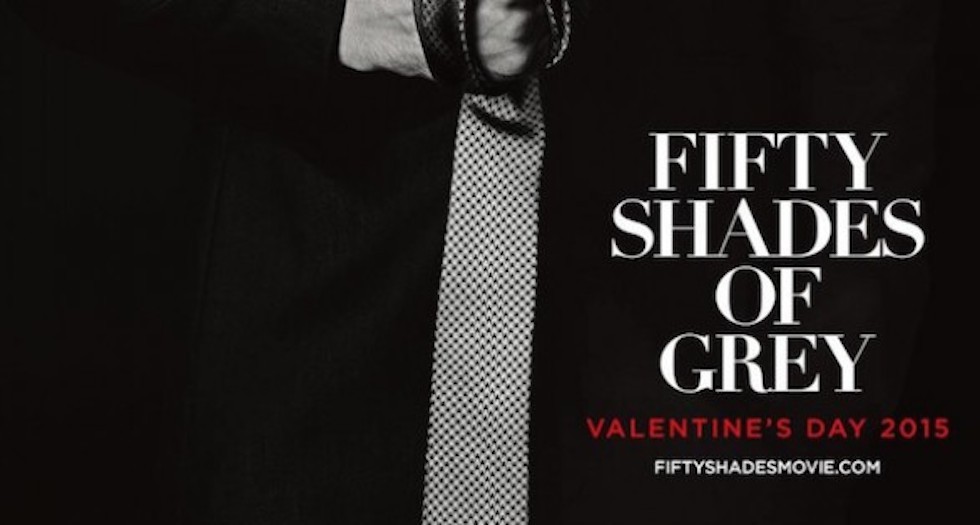 FIFTY SHADES OF GREY
Director: Sam Taylor-Johnson
Starring: Dakota Johnson, Jamie Dornan, Marcia Gay Harden, Eloise Mumford, Luke Grimes, Jennifer Ehle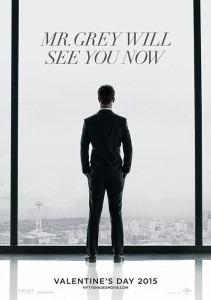 Bite that lip, Ana! You'll notice very early on that the biting of the lip is just one of Anastasia Steele's (Johnson) trademark mannerisms. She is young and very innocent. She heads off to Grey Enterprises to interview entrepreneur Christian Grey (Dornan) for her roommate Kate (Mumford) who is out sick. Ana is taken by surprise by how good-looking he is and mumbles through a majority of the questions Kate had prepared. He is instantly attracted to her as well. His dashing bachelor mindset instantly picks up on the innocent demeanor she exudes. The interview ends with Ana neglecting to get any good information out of him.
Christian is that kind of wealthy and elitist guy that can get whatever he wants. Even though she thought it was a horrible interview, he was enraptured. It's not long before he shows up at the hardware store where she works and flirts with her. Her innocence and naiveté clouds over her state of mind and doesn't think much of the ropes and zip ties he's buying. She even makes a joke about him murdering someone. He continues to pop up in her life and goes so far as to buy her first edition copies of Thomas Hardy's "Tess of the d'Urbervilles". It should come as no surprise that she is an English Lit major but favors Hardy over Jane Austen or Charlotte Bronte. One thing leads to the next and they can't keep their hands off of each other. She wants a relationship with him, but he continues to tell her he's not into that. He's not that kind of guy. He purely wants a physical relationship. You know, the kind that apparently requires contracts. Their back and forth flirtations eventually lead to his Red Room of Pain chock full of BDSM whips, chains, cuffs, belts and everything in between. She believes she can tame him into being Mr. Romantic while he believes he can coax her into being his submissive. Don't forget about that contract with pages and pages of mumbo jumbo laying out all of the rules he has for her.
The highly anticipated film is based off the first part of author E L James' book trilogy. She started the series as Twilight fan fiction. I'm not quite sure what the connection is to Twilight except for the Pacific Northwest setting, which is beautifully shot by cinematographer Seamus McGarvey (The Avengers, Atonement). I have never read the books, but felt like I had due to the insane about of coverage they received once they became popular. I couldn't turn on the news or radio without hearing about the pandemonium this series about bondage was causing. To be frank, I went into the film with low expectations as I heard the books were terrible and horribly written. Yes, I know that I went in with some preconceived notions that weren't fair.
Much to my surprise, Ana was not as annoying as I had expected. Dakota Johnson (Melanie Griffith and Don Johnson's daughter) elevates her and doesn't make her this helpless inexperienced weak central character I had expected. There is a life and sense of humor about her. Johnson gives a very vulnerable and open performance. She really has to go through quite a bit in the bondage scenes, and I've read she only used a stunt double for one of the final scenes. As the title character Christian Grey, Jamie Dornan (Netflix's "The Fall") does not fair so well. He chooses this flat drier tone with him and never raises or dips below that for Christian. He is very one-noted right from the beginning. There's no charm, humor, or sense of character about him. There is a mysterious quality about Christian, but Dornan keeps him too closed off. It made me question why Ana is so enamored with him. Is it just based off his money and appearance? Why would she bow down to his kinky ways for such a bland guy? Dornan also gets off easier with the sex scenes and nudity. I find it a bit odd that for a film about sexual exploration that he was able to have a no nudity clause in his contract. I was surprised by the fact that he is always wearing jeans, but apparently that's how he's described in the book.
There is some chemistry between them, but Dornan never lets her or us in. It's hard to find chemistry or connection when only one actor is doing all the work. Due to this there is a lack of heat between them and makes the bondage scenes a bit tame. Maybe they wanted to avoid an NC-17, but it was nowhere near as graphic or as risqué as I had anticipated due to all of the word of mouth about the book. I feel like I have seen other films that are far more sensual and steamy.
I applaud director Sam Taylor-Johnson (Nowhere Boy) for knowing what movie they are making. She knows that the film can't take itself too seriously. They know the source material and are able to play with the camp factor of it while keeping a sharp look to the film at the same time. Christian's lavish apartment was quite appealing on the eyes and there are some gorgeous shots of Seattle. I do think the film needs more Marcia Gay Harden as Christian's mom. She probably makes up a very small portion of the book, but she's always so great no matter the size of the role she takes.
Is It Worth Your Trip to the Movies? I went in with low expectations as the term "mommy porn" makes me roll my eyes, but came out surprised.
RATING: 2.5 out of 5 TICKET STUBS