MISSION: IMPOSSIBLE-ROGUE NATION
Writer/Director: Christopher McQuarrie
Starring: Tom Cruise, Simon Pegg, Jeremy Renner, Ving Rhames, Rebecca Ferguson, Alec Baldwin, Simon McBurney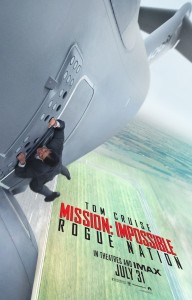 It's been nearly twenty years and Tom Cruise is still laughing in the face of danger as he continues his successful run as Ethan Hunt. His core team, the IMF, is the target of two different organizations. Alec Baldwin's Hunley and the rest of the CIA are hoping to shut them down due to due to their unorthodox methods. Hunt's bigger problem is with another group, known as The Syndicate. They have received the identities of his fellow teammates including Benji (Pegg) and Brandt (Renner) forcing them to disband leaving Hunt on his own. The Syndicate is behind a series of terrorist attacks involving missing government agents. Hunt lays lows mapping out every possible connection between the attacks while Benji and Brandt must cover for him after receiving pressure from Hunley. As the pieces start to connect, Hunt and his team track them from Vienna to London unmasking a larger cover up than they had expected.
2015 is the year of the spy movie with Kingsman: The Secret Service and Spy released earlier this year and The Man from U.N.C.L.E. and Spectre coming soon. It seems only right to get the fifth installment of the Mission: Impossible franchise released in between these. Franchises tend to wear thin after a while, but Cruise's baby shows no signs of age or slowing down any time soon. Most people probably thought it would have ended after the third film, but Ghost Protocol (number four), was a triumphant return to the Ethan Hunt we know. Color me surprised, but it gave me hope that this film would have potential. While this film doesn't reach that level of intensity and intrigue, it isn't a total waste of time.
For these films to work and set them apart from other spy films, they need to live up to the title concept. The audience wants to see Tom Cruise put in death defying situations as we hold on to our seats questioning why he decides to do his own crazy stunts. If you've seen the trailer or noticed the poster at your local theater, you may have noticed Cruise dangling off a plane as it takes off. I was disappointed, but not surprised that this is the exact scene that opens the film. Yes, you want to jump right in and grab the audience, but I don't think you should throw out your best stunt right at the very beginning. Where are you supposed to go from there? The next big scene is an exceptionally crafted assassination attempt at the Vienna Opera House during a performance of Pucci's Turandot. Cruise ends up battling the assassin on top of the lighting equipment and set pieces in the middle of a performance. It's perfectly timed with the show's epic aria "Nessum Dorma". Both the plane and the opera house happen within the first third of the movie, and each impossible mission after that peters out in intensity and action. Even the ending falls a bit flat compared to how the film starts. That's not to say the final half was boring, but there is an expectation with this franchise to raise the stakes with the action sequences. We've seen films like the Fast and the Furious franchise attempt practical effects as much as possible, but some of these scenes felt very reliant on CGI which always disappoints me especially knowing that Cruise likes to do his own stunts. This also leads to it feeling a bit unrealistic which deviate from the intelligence behind it. To his credit, he really is dangling off that plane, which is impressive to say the least.
It's been hard for Cruise to pull in a crowd lately with films like Edge of Tomorrow or Oblivion. Ethan Hunt is a role that audiences seem to accept him in as this is a tried and true character that even Cruise naysayers can still enjoy. The franchise's ensemble of Simon Pegg, Jeremy Renner, and Ving Rhames is another winning factor. They have great chemistry together when they get to work the missions. Pegg is his usual witty self, which gives the film plenty of laughs. The ability to laugh at the ridiculous nature they find themselves in helps keep the tone in check. Rebecca Ferguson is new to the series and is the standout playing the femme fatale. She's a smart character who can kick butt, and you never know which side she is playing for.
Each Mission: Impossible film has had a different writer and director leading to some unevenness along the way in terms of style and tone. Cruise called upon his friend Christopher McQuarrie to carry this film. This is their fourth collaboration after Edge of Tomorrow, Valkyrie, and Jack Reacher. McQuarrie is known primarily as a screenwriter and is slowly adding to his directing credits thanks to Cruise. I can't quite seem to get on the McQuarrie train yet, and I don't think he was the right choice to pull double duty with this one. This series needs a more experienced director to keep the pace in check, keep the action tight, and make it feel like a Mission: Impossible film. With so many spy films that are hot right now, you don't want the audience to be recollecting the Bourne or Bond series. That happened to me as I thought about those films and Furious 7. Cruise has teased in interviews that he'd like to work on the sixth entry as early as next year. I wouldn't mind another one, but I would like to suggest Brad Bird who helmed Mission: Impossible-Ghost Protocol to come back for another. Maybe if Cruise used the same creative team there would be more of a cohesive vision.
Is It Worth Your Trip to the Movies? Despite the fact that it's fifteen minutes too long and not the best in the franchise, it's an exciting ride that show no signs of slowing down.
RATING: 3 out of 5 TICKET STUBS