PAUL BLART: MALL COP 2
Director: Andy Fickman
Starring: Kevin James, Raini Rodriguez, Eduardo Verástegui, Neal McDonough, Daniella Alonso, Gary Valentine, Loni Love, Ana Gasteyer, Jayma Mays, Shirley Knight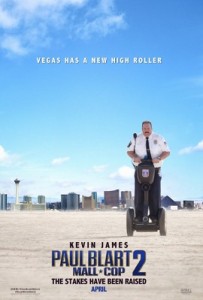 I don't think people had expected the 2009 film Paul Blart: Mall Cop to be a huge hit. Frankly, I had no desire to see it. Here we are six years later, and we have a sequel hoping to win over audiences again. Coincidentally, six years have passed since mall cop Paul Blart (James) saved the day on Black Friday. He is going through a bit of a rough patch after his wife (Mays) decides to leave him a week after they get married and his mother (Knight) passes away. He gets invited to a convention and awards ceremony for security cops in Las Vegas. This is just what he needs to cheer him back up again. He and his daughter Maya (Rodriguez) check into the Wynn Hotel for their short little getaway. Paul is very overprotective and cautious with his daughter, which blinds him from noticing the group of suspicious men (including Neal McDonough) that have also made their way into the Wynn. They are attempting to steal the hotel's priceless artwork, which includes a Van Gough painting.
Don't worry if you haven't seen the first film. They do a little bit of recapping of those events as a way of setting up where Paul Blart is at when this film opens. By no means did I feel lost or confused about this character or what may have happened in the first film. I do appreciate that this film does stands on its own accord. Then again, this is an easy comedy. I'm not trying to blast the film by saying there isn't a strong through line from one film to the next, but it's not that kind of sequel.
Star Kevin James works extra hard with these films as he wrote and produced this one. If you are familiar with his style, you know what kind of jokes to expect here. He definitely plays into the physical comedy where he throws his body all over the place to play up the laughs. He also has the flashy Hawaiian shirts, fanny pack, and a Segway. It gets a bit obnoxious for my taste, but I'm not the target audience. I would say it's similar to what we have seen from Melissa McCarthy recently except it's a bit cleaner. You can sense that James is trying hard, but the slapstick nature didn't garner many laughs from me. I would rather see Paul as innocent and bumbling than a hotshot-thinks he knows it all-takes his job too seriously type.
Joining James are "Chelsea Lately" comedians Loni Love and Gary Valentine. Both play security cops who are attending the convention. Love just happens to be a Mall of America cop, so there is a Minnesota connection in the movie. She is funny, but isn't given much to do and doesn't have to put forth a lot of effort. Valentine seems a bit bored and is stuck with a terrible bald cap and silver wig. I couldn't take my eyes off of it! Ana Gasteyer pops up and steals the movie as the wife of Gary Valentine's character. Even for having a pretty small role, she is hysterical and reminded me of the over-the-top characters she used to do on "Saturday Night Live." She has big teased out hair, sparkly tops, too much make-up, and that Vegas daiquiri souvenir cup.
Kevin James has created a very wholesome family friendly movie. There is very minimal profanity or violence. It has heart with the sweet father/daughter relationship within the story. The broader appeal will come from the fact there's an Ocean's 11/Home Alone type vibe to it. Paul Blart's antics will definitely appeal to young kids who like to see people fall down, crash into things, or get hurt. I grew tired of it quickly but am curious to see if this will do well at the box office or if too much time as passed since the first film.
Is It Worth Your Trip to the Movies? Not quite my type of movie, but it will appeal to families.
RATING: 2 out of 5 TICKET STUBS