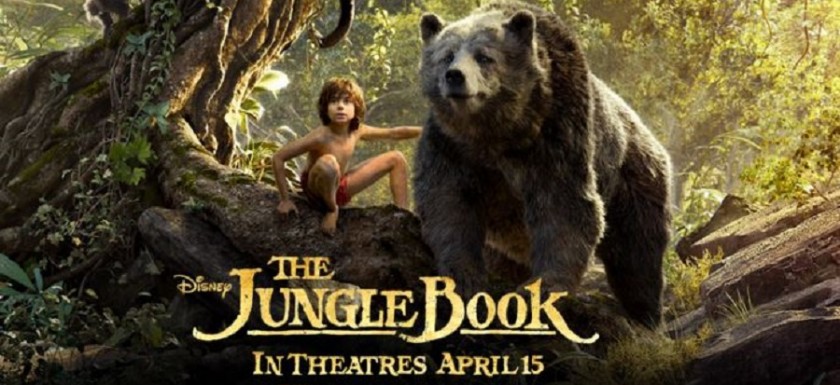 THE JUNGLE BOOK
Director: Jon Favreau
Starring: Neel Sethi, Bill Murray, Ben Kingsley, Idris Elba, Lupita Nyong'o, Scarlett Johansson, Giancarlo Esposito, Christopher Walken, Garry Shandling
In the past few years Disney has created "live action" versions of some of their animated classics. With each successful one come more rumored projects like Dumbo and Peter Pan that are in the development stage. If they continue on this upward trend, I have faith in those projects. Last year's film Cinderella was a complete and utter joy, and now Disney will have another slam dunk on their hands with The Jungle Book. After the death of his father, Mowgli (Sethi), a little man-cub is raised by a pack of wolves after being rescued by a panther named Bagheera (Kingsley). When the weather dries up, the animals of the jungle all gather at Peace Rock in harmony to share the limited water available to them. He's the only man-cub out there and finds himself the target of the evil tiger Shere Khan (Elba) who wants to kill Mowgli for his own personal vindictive reasons. Now that the wolf den is no longer safe, Bagheera leads Mowgli on a quest through the jungle to reach the man village and find safety. He comes across other animals along the way that may or may not have his best interests at heart.
I grew leery of the film when it was first announced as I was unsure how they would make it work. I didn't want it to be this CGI heavy film reminiscent of their earlier attempts like Maleficent or Alice in Wonderland. I understand that they aren't similar worlds, but Disney has a way of over doing it with big 3D spectacles. They hired Jon Favreau who was a smart choice as he has previously directed family films like Elf and big adventure work with the Iron Man movies. Color me surprised as I found it exciting, fresh, and shockingly realistic. The animation and special effects work on bringing the animals to life is stunning. They didn't use live animals nor did they do the Andy Serkis-motion capture technique. It's all done with CGI with the actors lending their voices to the characters.
The animation is so spectacular that it puts you right in the middle of the jungle from the very first scene as Mowgli is running from tree to tree. You believe you are on this same adventure with him and can easily forget it's all computer effects. If you see it in 3D, you'll be even more entrenched in the wild with jungle animals. The one and only scene featuring Scarlett Johansson as the wickedly evil snake Kaa has her popping straight out of the screen with her tongue hissing. I'm frightened of snakes, so this actually made me squirm in my seat. You may be shocked with this concept as it IS a Disney movie and it IS a family film, so let me warn you that it skews for an older crowd. It might be too scary for very young kids who have a hard time differentiating between fantasy/make believe and reality when the animals look this realistic and are threatening a young boy.
The casting is spot on across the board. There is no weak link among them. As the evil tiger Shere Khan, Idris Elba has a looming and scary presence whenever he is on screen. It's very reminiscent of Scar in The Lion King. Speaking of that film, there is a little "easter egg" for Disney fans when a meerkat and warthog (Timon and Pumba) stand next to each other at the Peace Rock. The beginning is very dark and depressing with Shere Khan and Kaa's presence, but Bill Murray's entrance as the lovable bear Baloo is a needed sigh of comic relief. He is quintessential Murray, which will make the parents laugh harder than the kids. It's silly to think of it as a part he was born to play, but I can't imagine anyone else in that role. The whole film lightens up thanks to his take on Baloo. Christopher Walken is in prime Walken mode as King Louie. If you thought you'd never hear him sing again after NBC's live musical Peter Pan, think again! He does have a musical number in this one. The film doesn't have all of the music from the cartoon, but some of the hit songs are back like Murray singing "The Bear Necessities." The rest of the voice cast includes Ben Kingsley as the wise Bagheera and Lupta Nyong'o and Giancarlo Esposita as wolf parents Raksha and Akela, respectively. The late great Garry Shandling has a brief part of as a porcupine, and it's just delightful to hear his voice one last time.
You would think that with all of these A-listers, one of them would be the star of the film. No. The real breakout star is Neel Sethi. He went from a completely normal young child to auditioning for a huge film by Jon Favreau to absolutely knocking it out of the park as the young man-cub, Mowgli. He is the only actor in the film to appear on screen and has to act against a green screen the entire time on a sound stage. He brings forth this completely fearless attitude while having such tender care and emotion toward his animal "co-stars".
The Jungle Book is one of those rare breeds where CGI and 3D can actually work together to bring the audience to another world without it just feeling like an easy studio ploy for more money. It's that escapism that we love about going to the movies. One mark of a great movie is when it can transport you to a far off place unlike your everyday life. You feel that rush of adrenaline in the action heavy scenes and then find yourself cackling with joy with Bill Murray's Baloo. There are some great lessons along the way for kids about facing your fears and not being afraid. It's one that won't tire upon repeat viewings. Just be mindful that the 3D could make it too scary for little kids.
Is It Worth Your Trip to the Movies? Disney has done it again!
RATING: 4 out of 5 TICKET STUBS