TOMORROWLAND
Director: Brad Bird
Starring: Britt Robertson, George Clooney, Raffey Cassidy, Hugh Laurie, Kathryn Hahn, Keegan-Michael Key, Tim McGraw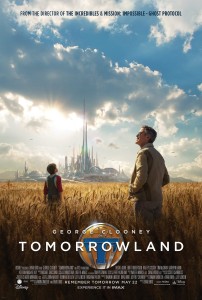 George Clooney is starring in a big summer film geared toward a younger audience. Wait a minute; did I travel back in time to 1997 with the release of Batman & Robin? No, thank goodness I haven't. This time he's heading into the future with writer/director Brad Bird (The Incredibles, Mission: Impossible-Ghost Protocol). As a young boy, Frank Walker (then played by Thomas Robinson) was determined to keep his dreams alive of being an inventor. He created a jet pack, but never worked out all of the kinks. He attended the World Fair in 1964 but was turned away by one of the judges (Laurie). There he met a little girl named Athena (Cassidy) who led him on an adventure where he was transported to a magical and futuristic world known as "Tomorrowland" with robots and flying vehicles.
In present day, Frank (now played by Clooney) is living as a recluse, paranoid of others who may be out to get him and his inventions. Casey Newton (Robertson), a young teenager who shares Frank's love of science and exploration, has come in contact with a small pin with the letter T on it. Whenever she touches it, the pin transports her to another dimension. She finds herself the target of a group of robots, but is saved by Athena, the same girl that helped Frank as a kid. Athena leads her to Frank's house as he may have the answers she needs about this alternative dimension. Together, they may be the only hope for the human race and the future that is in store.
When you think about family movies of late, you have your standard animated Disney, Pixar, Dreamworks type films or dopey comedies like Paul Blart Mall Cop 2. Tomorrowland is a huge live action film for Disney that excels at aiming for a new demographic. It feels fresh as it's not based on a superhero or a young adult novel about vampires or love triangles. For me there was a nostalgic, old-fashioned feel comparable to those old Disney live action films that I watched as a kid. There's that magical Disney feel with the whole vision behind Tomorrowland and during the scenes when young Frank is at the 1964 World's Fair. He even gets to ride the "It's a Small World" ride. There is some goofy fun in the present day scenes when Casey comes in contact a husband and wife team that run a sci-fi collectibles store. They are played hysterically by Kathryn Hahn ("Parks and Recreation", This is Where I Leave You) and Keegan-Michael Key (Pitch Perfect 2, "Key and Peele").
The first half is full of fun, adventure, and intrigue. Brad Bird co-wrote the film with Damon Lindelof (Star Trek Into Darkness, "Lost"). Both have exceeded before at creating these "out of this world" type universes where the imagination can soar to new heights. Their strength of having smart concepts to challenge young audience members ultimately turns into the film's weakness. The second half starts to get bit heavy and serious as it gets weighed down by its themes and messages without having as much fun at the same time. This will inevitably drag down the pace for its intended audience. Maybe this is the section of the film geared toward the adults.
It's refreshing to see Clooney doing this kind of film. We have grown accustomed to seeing him do heavier, political dramas. Bird and Lindelof actually wrote the script with him and mind. His co-star, Britt Robertson, is a star to keep your eye on. She has spunk to her with down to earth qualities that makes her characters likeable and believable. She paired well with Scott Eastwood earlier this year in The Longest Ride. Tim McGraw has a small her in the film as her father. Oddly enough, I kept thinking about how the great Rick Moranis would have been perfect in this film. He has since retired from acting, but this film made me think of him.
Tomorrowland is a good family movie for older kids ten years old and up. Don't discredit the fact that it's Disney as it's a very intelligent and thought-provoking movie with big messages about imagination, invention, dreaming, and shaping the future. If you feel like you're getting too whiplashed by the tone and structure, just admire the beautiful cinematography by Claudio Miranda (Life of Pi) and the John Williams'-inspired score by Michael Giacchino (Up). Can he just score my every day life? He is truly one of the best composers working today.
Is It Worth Your Trip to the Movies? Brad Bird and Damon Lindelof's vision is worth exploring even if it misfires at times.
RATING: 3.5 out of 5 TICKET STUBS