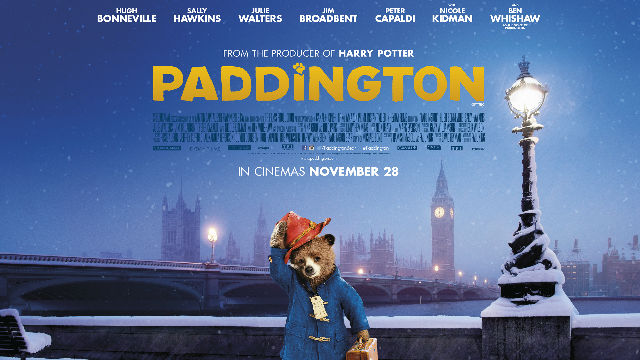 PADDINGTON (2015)
Director: Paul King
Starring: Ben Whishaw, Hugh Bonneville, Sally Hawkins, Julie Walters, Nicole Kidman, Michael Gambon, Imelda Staunton, Tim Downie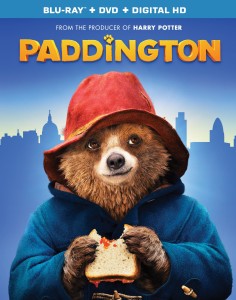 I have to admit that when the trailers were released for Paddington, I was a bit skeptical. Something didn't look right about it. I was then surprised by the critical acclaim it received after it opened. Let me tell you, I am sure glad that I went back and watched it now that it's available as a home release choice. A British explorer by the name of Montgomery Clyde (Downie) heads down to Darkest Peru and finds a new species of bears that take him by surprise. He becomes friends with them, teaches them about marmalade, and leaves a lasting impression on one of the little ones. He leaves, and their world is altered again when an earthquake destroys their home.
The little bear leaves his Aunt Lucy (Staunton) behind and sneaks onto a cargo ship headed to London looking for his explorer friend Mr. Clyde. As he sits at the train station patiently waiting for someone to help him, The Brown family walks by in a hurry to get home. Mr. Brown (Bonneville) is frightened of the bear while his wife Mary (Hawkins) is inquisitive about this little creature. Along with their two children moody Judy and adventurous Jonathan, they invite the little bear into their home and name him Paddington (Whishaw). Paddington is wildly curious in his new surroundings, which leads to some unfortunate accidents. Just imagine what could happen when he discovers a bathroom for the first time! What Paddington and the Browns don't know is that the director of taxidermy at the National History Museum (Kidman) also has her eyes on Paddington. She has been on the hunt for him for years.
I would be shocked if you have never heard of the name Paddington before. The movie is based off the books by author Michael Bond that have left a legacy in England, United States, and many other countries. Director Paul King co-wrote the screenplay with Hamish McColl. They've based this version of the title character on the earliest version of Peggy Fortnum's illustrations of the character. He still has his red hat, blue coat, but doesn't have his boots, which were added much later on by other illustrators. The film's animators have done a remarkable job at bringing Paddington to life and capturing those unique qualities that make him so endearing. It's sharp and detailed with great care placed into making Paddington innocent and lovable. You can spot some direct influence from the silent film area of Charlie Chaplin and Buster Keaton.
With the help of the animation team, Ben Whishaw (Skyfall, Cloud Atlas) brings Paddington to life by providing the perfect voiceover for him. Whishaw is simply delightful at bringing out the youthful curiosity and charming side of Paddington. Voicing this type of character can be tricky as you want to come across as playful and appeal to young moviegoers without dipping into an annoying voice and making the character obnoxious. Whishaw is actually the second actor to voice him for the movie as Colin Firth originally played the title character. With agreement from the director, Firth dropped out when they realized his voice didn't match the qualities needed for Paddington. I think they made the right decision to cast the role younger. Firth is a bit too distinguished and proper for the role.
Producer David Heyman called upon some of his Harry Potter actors including Michael Gambon, Imelda Staunton, Julie Walters, and Jim Broadbent to come aboard this train for both animated roles and human characters. The voices of Gambon and Staunton are clearly recognizable as Paddington's Uncle Pastuzo and Aunt Lucy, respectively. The always-delightful Julie Walters is having a joyous time as Mrs. Bird, the Brown's maid. Hugh Bonneville is no stranger to playing paternal figures if you've seen his work as Lord Grantham on "Downton Abbey." He's carried over a bit of that grumpy and stern "father knows all" type into Mr. Brown. The only actor that feels out of place is Nicole Kidman. I typically like her work, but I wanted her to go farther here as the movie's main villain, Millicent. She could have pushed further into being over-the-top and diabolical. She's almost playing it too seriously without having enough fun in remembering that this is a movie aimed at children.
There's always an extra pressure involved when adapting a beloved book to the big screen that has touched millions of readers. It received the stamp of approval from one of author Michael Bond's relatives. She rejoices in one of the special features on the Blu-Ray/DVD at the superb job the cast and crew did at bringing Paddington to the big screen and how they were able to capture the magic of the books. Now, I haven't read them in years, but I am sure I will someday to my children. Even without a strong connection to these characters at this point in my life, I found the movie completely enjoyable in every way. King adds some stylistic flair to the film in the cinematography and design choices evoking a Wes Anderson type feel to it. It reminded me of Anderson's The Fantastic Mr. Fox, which was based off another classic children's book. The film is whimsical and very funny, with a broad appeal behind it.
Is It Worth Your Trip to the Movies? Parents won't mind watching this over and over with their kids.
RATING: 4 out of 5 TICKET STUBS