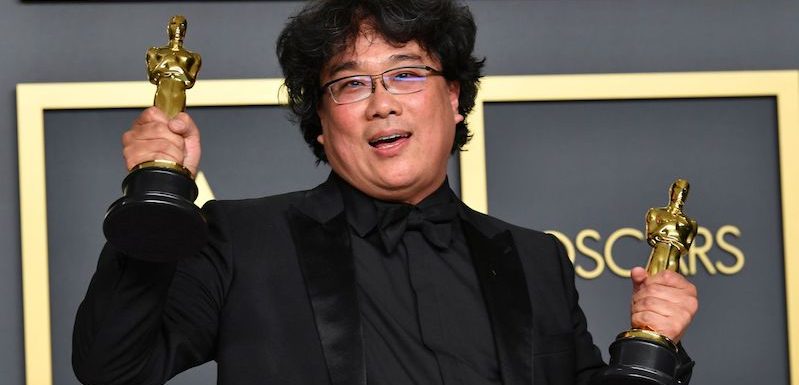 THE 92nd ACADEMY AWARDS – THE WINNERS
Best Picture
"Parasite"
Lead Actor:
Joaquin Phoenix "Joker"
Lead Actress:
Renée Zellweger "Judy"
Supporting Actor:
Brad Pitt, "Once Upon a Time in Hollywood"
Supporting Actress:
Laura Dern, "Marriage Story"
Director:
Bong Joon Ho, "Parasite"
Animated Feature:
"Toy Story 4"  Josh Cooley
Animated Short:
"Hair Love," Matthew A. Cherry
Adapted Screenplay:
"Jojo Rabbit," Taika Waititi
Original Screenplay:
"Parasite," Bong Joon-ho, Jin Won Han
Cinematography:
"1917," Roger Deakins
Best Documentary Feature:
"American Factory," Julia Rieichert, Steven Bognar
Best Documentary Short Subject:
"Learning to Skateboard in a Warzone," Carol Dysinger and Elena Andreicheva
Best Live Action Short Film:
"The Neighbors' Window," Marshall Curry
Best Foreign Language Film:
"Parasite," Bong Joon Ho
Film Editing:
"Ford v Ferrari," Michael McCusker, Andrew Buckland
Sound Editing:
"Ford v Ferrari," Don Sylvester
Sound Mixing:
"1917", Mark Taylor and Stuart Wilson
Production Design:
"Once Upon a Time in Hollywood," Barbara Ling and Nancy Haigh
Original Score:
"Joker," Hildur Guðnadóttir
Original Song:
"I'm Gonna Love Me Again," "Rocketman"
Makeup and Hair:
"Bombshell", Kazu Hiro, Anne Morgan and Vivian Baker
Costume Design:
"Little Women," Jacqueline Durran
Visual Effects:
"1917", Guillaume Rocheron, Greg Butler and Dominic Tuohy
Parasite was the big winner last night taking home four Oscars. It was a monumental win for international films as it was the first non-English language film to take home the Oscar's biggest award, Best Picture. It was the first film from South Korea to ever be nominated for an Oscar. The visionary man behind Parasite, Bong Joon Ho, took home all four of the film's awards given his work writing, directing, and producing it. The win was a bit of a surprise given that 1917 was the favorite to win Best Picture and Best Director for Sam Mendes. 1917 had won many of the other guilds and award ceremonies this award season. The Academy isn't always as daring or progressive, which made predicting Parasite a winner feel like a stretch. 1917 did walk away with three Oscars for Best Cinematography, Visual Effects, and Sound Mixing.
The 2019 movie season is officially over, and we can look ahead as to what's to come here in 2020. Are you happy with last night's winners or were some of your favorite movies ignored by the Academy? Here's hoping they bring back a host next year!