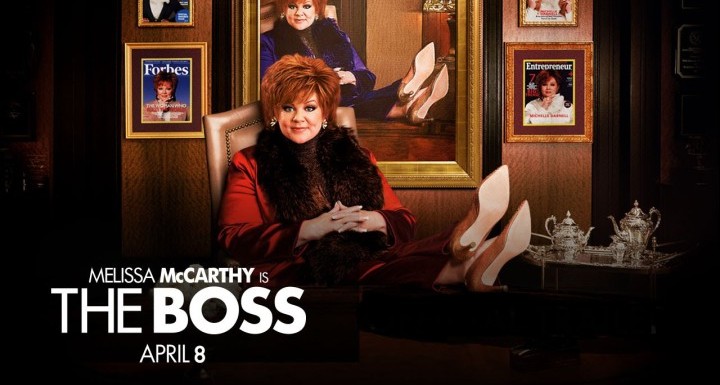 THE BOSS
Director: Ben Falcone
Starring: Melissa McCarthey, Kristen Bell, Ella Anderson, Peter Dinklage, Kristen Schaal, Cecily Strong, Kathy Bates, Tyler Labine, Margo Martindale, Cedric Yarbrough
Melissa McCarthy and her husband/creative partner, Ben Falcone, are back with another loud-mouthed character that aligns with many of the other characters she has created recently. She plays Michelle Darnell who spent her childhood being tossed around from foster home to foster home thanks to Margo Martindale's character. Now she's a business titan who has risen from the ashes to become a confident and successful career woman. She's dressed to the nines in head to toe designer labels and travels with the biggest Louis Vitton bags and luggage pieces. She considers herself one of the wealthiest women in America but finds herself now being arrested for insider trading. This leaves her security guard Tito (Yarbrough) and assistant Claire (Bell) without jobs.
Her four-month sentence ends, and Michelle realizes the hard way that she has nothing left in life now that the government has seized her belongings. She reaches out to Claire who decides to open her home until she finds other housing options. Claire's daughter Rachel (Anderson) is part of a girl troop called the Dandelions who, like the Girl Scouts, sell cookies. Michelle sees this as the perfect business opportunity as she wants to start a competing troop called Darnell's Darlings Brownies. This could be a good fresh start for her, but her ex-boyfriend Ronald/Renault (Dinklage) has ulterior motives.
Melissa McCarthy created the character of Michelle Darnell many years ago when she was a part of the sketch comedy group The Groundlings. The script was written by McCarthy and Falcone. They also produced it with him directing it. The problem is that this character still feels like a basic sketch comedy character. If you've seen a majority of the Saturday Night Live movies, you know what I mean where it's funny in doses but doesn't always work for a full movie. Much like the other McCarthy characters recently, she's very crass and a mess of a character. She's also that kind of character where she's not always someone who you root for. She has some admirable qualities, but other times she's just awful. The difference with Michelle, unlike the characters she played in Tammy or The Heat, is that she's filthy rich, physically put together, and delusional.
Michelle Darnell can be a funny character. There were a few times where I had a big belly laugh that took me by surprise in the delivery of the gags. McCarthy plays into her usual brand of physical humor with her falling down stairs or getting thrown against a wall. Some of it works well, but there are bits that just feel like rehashes of jokes she's tried before. There's a bit in Tammy where she pretends a bug is flying around her head, and that same joke gets repeated here. Some of her more brazen outbursts at the fellow moms in the troop are bitingly funny. Her Bridesmaids co-star Annie Mumolo is a riot as head troop mom Helen. With such highs, come the lows in the script. There are larger scenes that just do not work as the script is fairly disjointed. There's a street brawl between the opposing troops. The scene is aided by the use of CGI and slo-mo effects to make it a bit more elaborate and comedic. Watching young girls fight, kick, punch, and pull each other's hair in the middle of the street was painful and not funny in the slightest. Then there's Peter Linklage. Even though he's the token villain, he disappears for a large portion of the movie. He plays his villain a bit cartoony, which appropriately fits the rest of the film. The rest of the cast is comprised of funny comedic actors you'll probably recognize like current SNLer Cecily Strong, Tyler Labine (Tucker & Dale vs Evil), and Kristen Schaal (30 Rock).
McCarthy has had some big highs (Bridesmaids, Spy) and some big lows (Identity Thief, Tammy) and this falls right in the middle (The Heat). I say this after every McCarthy project, but I really want her to redirect the trajectory of where her career is going. She spent many years as the supporting character actor and has only starred in leading roles of late. That's not necessarily a bad thing, but certain characters (notice I'm not saying McCarthy) work better in a supporting aspect of the story. Kathy Bates pops up briefly as a former mentor of Michelle Darnell's, and it dawned on me that McCarthy could have a very similar career as Bates. McCarthy is a fantastic actress that can do a variety of genres. I'd love to see her do something completely dramatic or sinister.
The Boss has just enough funny moments to make it recommendable to any McCarthy fan out there. It's worth noting that even though part of the story is about the Darnell's Darlings, this film is far too R-rated to bring any children of that age to this movie. Then again, I'm not a parent so what do I know.
Is It Worth Your Trip to the Movies? Even though she's done better movies, there's no denying McCarthy's comedic chops.
RATING: 3 out of 5 TICKET STUBS