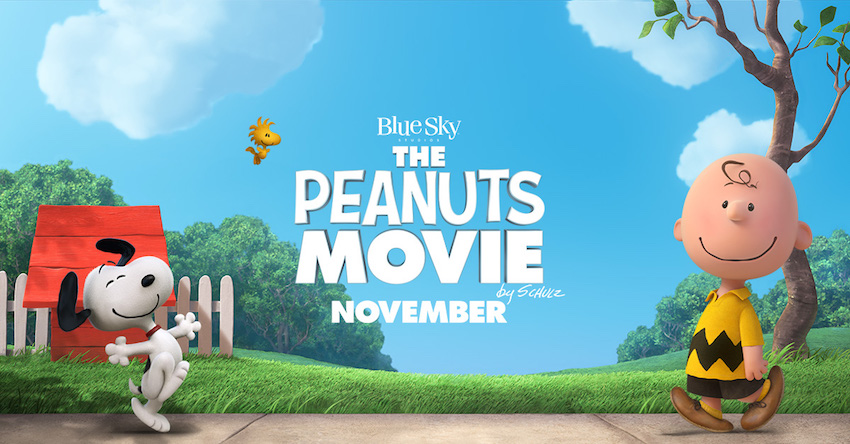 THE PEANUTS MOVIE
Director: Steve Martino
Starring: Noah Schnapp, Hadley Belle Miller, Francesca Capaldi, Venus Schultheis, Mar Mar, Alexander Garfin, Kristin Chenoweth, Trombone Shorty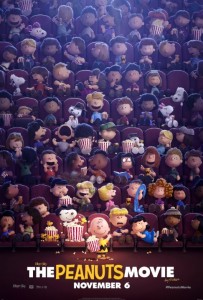 It's been thirty-five years since Charlie Brown, Snoopy, and the rest of the Peanuts gang graced the big screen. Creator Charles M. Schulz died in 2000, but his son Craig has written an all new story for his father's beloved characters. It's a snowy day and school has been cancelled leaving the Peanuts a full day of playing around on the ice rink, building snowmen, and throwing snowballs around. This also happens to be the day that Charlie Brown (Schnapp) finds out he's getting a new neighbor. The moving trucks arrive and so does The Little Red-Haired Girl (Capaldi), who also ends up joining Charlie Brown's class. It's love at first sight for Charlie and sees this as the perfect opportunity to have a clean slate. She won't know about any of his old mishaps. As he tries to impress the Little Red-Haired Girl, his rascally friend Snoopy helps him along the way and embarks on a journey against the Red Baron to rescue a beautiful poodle named Fifi (Chenoweth).
The biggest update the The Peanuts Movie has embarked on is the conversion from Schulz's 2D drawings to full 3D computer animation. There will be some naysayers that will scoff at the use of changing that original design, but they should rest assured that it was done with great care and consideration to not compromise the essence of those original drawings. Director Steve Martino and the animation crew at Blue Sky Studios spent the whole first year of the process coming up with the correct look for Charlie Brown. I was never turned off by the 3D decision, and each character feels like perfect recreation of the 2D illustrations. Writer Craig Schulz has wisely incorporated many of Charlie Brown's old adventures and memories into this in order to make it feel as cohesive to the Peanuts world we all know and love. There are references to his flimsy Christmas tree, the great pumpkin, and there are appearances by Snoopy's Joe Cool, the Red Baron, and some other surprises along the way. I got a kick out of the fact that some of the flashback sequences are told using the old 2D drawings.
Unlike many animated films where we hear adult actors voice kid characters, The Peanuts Movie has a plethora of young talent voicing our beloved characters, which feels aptly appropriate given who these characters are and the charming nature of the story. Yes, they still resemble the voices we are used to, but they are not direct imitations. It would be too jarring to hear a completely different sound quality to each character, but this cast still brings their own personality and essence to each role while obviously resembling the characters. Hadley Belle Miller stands out as the bratty Lucy. Noah Schnapp is having a great year as he is successfully voicing Charlie Brown and starring as Tom Hanks' son in Bridge of Spies. The only returning actor is Bill Melendez as they use archival recordings of him for Snoopy and Woodstock.
It seems like in this day and age, many animated films border on annoying. I'm looking at you, Home. It seems like they dumb themselves down to bathroom humor to appeal to a child's sense of humor. Some animated films even seem too scary for younger kids. The Peanuts Movie feels refreshing as it has that innocent and timeless feel to it. It harkens back to what made the classic Peanuts so endearing. Martino and Schulz went back to the original source material, as the messages are universal. The heart of the film is about being kind, honest, and true to yourself. It's hard not to smile along the way with Charlie Brown and the gang. You may even remember your own memories of love at first sight or when you had a little Charlie Brown in you. How can you not laugh whenever Snoopy is around? His reactions to Charlie Brown are priceless. The Peanuts Movie is a welcome return to world of Charlie Brown, Snoopy and their friends: Lucy, Linus, Pig Pen, Sally, Peppermint Patty, Marcie, and Schroeder. It's a wholesome feel good movie for the whole family that will hopefully bring the Peanuts to a whole new audience.
Is It Worth Your Trip to the Movies? The gang's all back for a story that's cute, charming, and full of heart.
RATING: 3.5 out of 5 TICKET STUBS