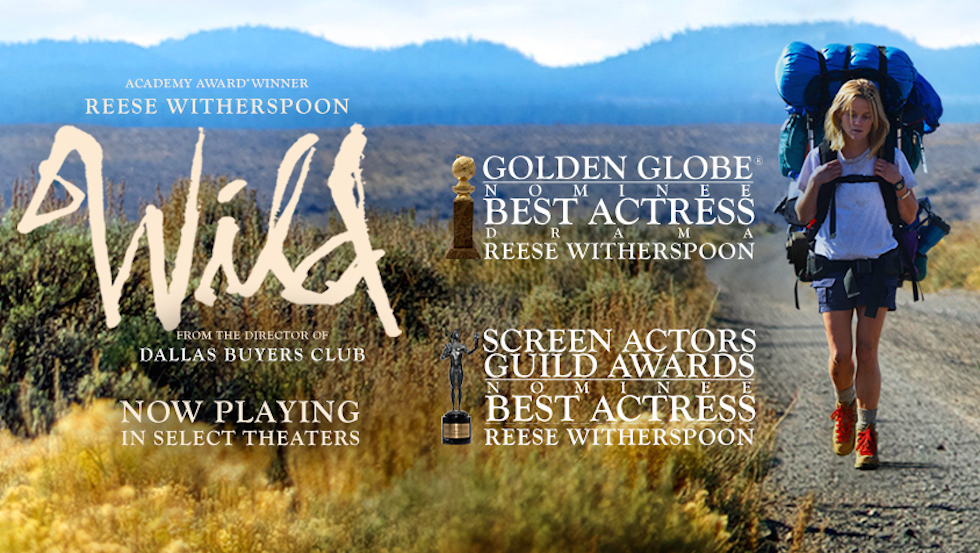 WILD
Director: Jean-Marc Vallée
Starring: Reese Witherspoon, Laure Dern, Thomas Sadoski, Gaby Hoffman, W. Earl Brown, Michiel Huisman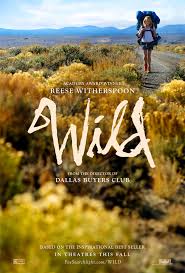 I first saw Wild at the Twin Cities Film Fest back in October, which was aptly fitting as there is a Minnesota connection tied to this story. Cheryl Strayed (Witherspoon) was living in Minneapolis before she started her journey on the Pacific Crest Trail. It was a 1,100 mile hike from the Mojave desert in California to the Washington border. From the beginning of her mission, it is painfully obvious that she has gotten herself in way over her head. She is by no means an experienced hiker or backpacker. She overstuffs her pack so full she can barely stand up with all of the weight on her back. I guess that's better than packing too light.
Cheryl had finally realized that her life was spinning out of control and that she had hit rock bottom. Her mother's (Dern) death had a devastating affect on her. Her mother was her best friend and died from cancer when Cheryl was in her early twenties. She fell into a heroin binge and began sleeping around with multiple men even though she was married to a wonderful man named Paul (Sadoski). The hike is the spiritual journey she needs to become the best part of herself.
If you feel like you have seen these "alone in the wild" type movies before like Into the Wild or 127 Hours, you'll be glad to know that Wild is not that type of movie. This is not a two hour movie that is solely Reese Witherspoon walking in the woods. If you couldn't tell already, it is based off the true story Strayed recounted in her book of the same name. Fellow author and screenwriter Nick Hornby has written the script, which goes back and forth between her pilgrimage on the PCT and her life leading up to this point. I haven't read her book yet, so I'm not sure if that is the same way Strayed structured it. It's effective in presenting the two life journeys she goes on and helps break up the monotony that could have resulted if it was told in a linear fashion. Hornby also injects quite a bit of humor in the film. This duly keeps the mood inspiring and uplifting instead of sulking in a depressing tone. Fans of the book should note that Hornby directly uses many of Strayed's passages and inspirational quotes.
Wild is the latest from director Jean-Marc Vallée who brought us last year's hit Dallas Buyers Club. Despite that film's Oscar winning performances, I thought that the overall movie was a bit of a mess. Wild is, by far, a better executed film. Hornby's script has a lot to due with that. Vallée seems more in control of what he wants out of this film, which wasn't as apparent in Dallas Buyers Club. What we can gain by both films is that Vallée knows how to get captivating performances out of his actors, especially when they are giving performances outside of their comfort zones.
The first two films Reese Witherspoon optioned for her production company were Gone Girl and Wild. She noticed a lack of good scripts coming through with strong and empowering female characters. She wasn't right for the lead in Gone Girl, but with Cheryl Strayed, she has given us the best performance of her career since her Oscar win as June Carter Cash in Walk the Line. I will state that it is the most physically challenging role of her career. Much like Strayed on the PCT, you could say that this role is somewhat out of her element for Witherspoon as it isn't the rom-coms she can do in her sleep. She has a likeable quality about her that keeps you rooting for her and doesn't turn her into a despicable junkie, which may have happened with another actress. The other integral part of the film is the relationship she has with Laura Dern who plays her mother. The age difference may not be as great in real life, but it works well enough in the film for the mother-daughter bond they had. Dern is always delightful at bringing out the playful and effervescent qualities in her characters. Witherspoon has already earned herself Golden Globe and Screen Actors Guild Award nominations for her performance. I would hope that the Academy recognizes Dern as well even though she's been ignored from the other ceremonies. Her character doesn't go through the life altering change as Witherspoon's does, but her performance is just as memorable and vital to the movie.
Cheryl Strayed was involved with the making of the film, so I would venture to say that it stays faithful to her story. The film closes with some images she took along the hike, and you can see that even the costume choices match what she wore in real life. If you watch closely, she has a cameo at the beginning as a truck driver that drops Reese Witherspoon off at a hotel. It's inspiring to watch Strayed come to the realization of hitting rock bottom and making the choice to act on it. Nature can be a mysterious force that you can either fight or become one with in life. I have never gone on any sort of journey like she did. The closest I've come to spending time with nature is having some quiet time up at my cabin in northern Minnesota. Being unplugged and listening to the sounds of the birds and critters can be just the ticket I need to unwind.
Is It Worth Your Trio to the Movies? I've seen Wild twice now and enjoyed more the second time around.
RATING: 4 out of 5 TICKET STUBS