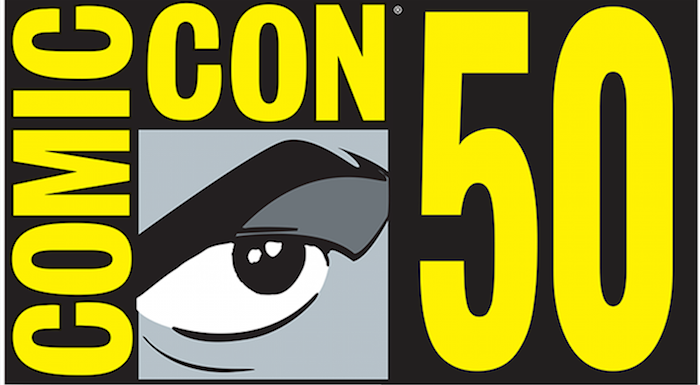 SAN DIEGO COMIC-CON TRAILERS
San Diego Comic-Con becomes bigger and bigger each year as film and television studios line up to tease their upcoming projects. There are no shortage of trailers and featurettes this year, so I wanted to give my first reactions to a few of them, starting with the movie I'm beyond obsessed with…
IT: CHAPTER 2
The Losers Club has returned to their hometown of Derry, Maine twenty-seven years after Pennywise the Dancing Clown terrorized them as kids. An unspeakable events forces their reunion after they've all gone off their separate ways. Jessica Chastain (Beverly), James McAvoy (Bill), Bill Hader (Richie), Isaiah Mustafa (Mike), Jay Ryan (Ben), Andy Bean (Stanley), and James Ransone (Eddie) join the cast along with Bill Skarsgård returning as Pennywise. The child actors from Chapter 1 also return for flashback scenes. The final trailer for Chapter 2 looks frightening as all hell. The screeching music, the carnival hall of mirrors, seeing Jessica Chastain drowning in blood, I could go on. Director Andy Muschietti looks like he's done an excellent job at bringing Stephen King's epic story to life. Oh, and just a reminder his book dealt with the Losers as adults so this film isn't purely made out of being a cash grab, but rather finishing what King brought to life in his novel.
______________________________________________________________________________
TOP GUN: MAVERICK
The role of Maverick in 1986's Top Gun is classic Tom Cruise. I haven't watched that film in years, but the trailer for Top Gun: Maverick looks just like the film I remember. Cruise feels right at home again in the fighter jet, bomber jacket, and sun glasses. Plot details are scarce at this point but we do know that Cruise will be joined by Miles Teller, Jennifer Connelly, Jon Hamm, Glen Powell, and Ed Harris. Val Kilmer is also credited as returning as Iceman although it's unclear if this is a supporting role or glorified cameo. I CAN confirm that Glen Powell looks shredded in the trailer. I guess I have my workout goals for 2020 set.
______________________________________________________________________________
CATS
Director Tom Hopper is no stranger at bringing large scale musicals to the big screen after helming Les Misérables. Now he has his eyes set on Andrew Lloyd Webber's Cats. I've never been a big fan of the stage musical, and this trailer isn't necessarily helping its cause. I applaud this cast with the likes of Jennifer Hudson, Dame Judi Dench, Ian McKellen, Idris Elba, James Corden, Francesca Haywward, Rebel Wilson, and Taylor Swift all appearing in full Cats attire. What I can't seem to get over is the CGI. It looks like they're all made up in full hair and makeup much like the stage musical but with CGI smoothing out wigs lines and make up contouring to make them look like real cats. Yet they still look like the actors through motion capture. I find the look so strange as if Jennifer Hudson or Judi Dench are now trapped in the bodies of cats. I don't want to completely trash this film before I see it, but I'm going in cautiously.
______________________________________________________________________________
JAY & SILENT BOB REBOOT
The film's of Kevin Smith's View Askewniverse were staples in high school movie nights where we'd throw on Clerks, Dogma, Chasing Amy, or even Mallrats. Smith has directed many films since Clerks II in 2006, but now with Jay & Silent Bob Reboot he's returning to the characters we came to know and love him for. Smith is back writing, directing, and starring as Silent Bob along with Jason Mewes as Jay. This trailer should please their longtime fans with the return of key players like: Jason Lee, Matt Damon, Ben Affleck, Rosario Dawson, Shannon Elizabeth, and many more as they reprise characters from a variety of these films not just Jay and Silent Bob Strike Back (2001). I have my homework cut out for me as I'll need to brush up on the View Askewniverse again before this film hits theaters October 15, 2019.
______________________________________________________________________________
TERMINATOR: DARK FATE
We didn't get a new trailer for Terminator: Dark Fate, but James Cameron, Linda Hamilton, and Arnold Schwarzenegger revealed a behind-the-scenes featurette on the upcoming sixth Terminator film. Here's why I'm excited. LINDA. HAMILTON. She's back again as Sarah Connor, and they're treating this film as a direct sequel to Terminator 2: Judgment Day. Cameron also revealed that Edward Furlong will be reprising his role as John Connor. Furlong has stepped away from Hollywood and has battled drug addiction since appearing in T2 as a kid. Nick Stahl, Christian Bale, and Jason Clarke have all played John in the subsequent sequels. We don't know yet how large of a role Furlong will have, but I suspect it will be either as a flashback or in a glorified cameo. Tim Miller (Deadpool) takes over directing duties from Cameron.
______________________________________________________________________________
I'll continue to add to this list as the weekend progresses.